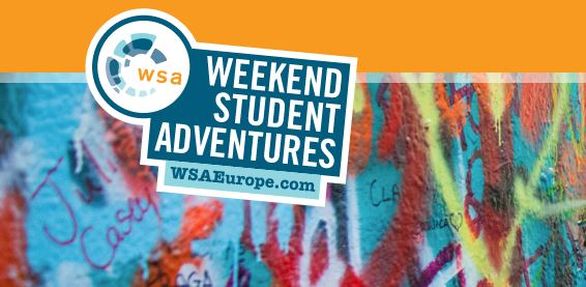 Weekend Student Adventures (WSA) has created the Cultural Bridge Scholarship that allows students the incredible, enriching opportunity to study abroad in Europe. All American undergraduate students with plans to study abroad in Europe are encouraged to apply. WSA Europe will award scholarships based on financial need, passion, and merit. The scholarship is intended to alleviate the stress and take you one step closer towards your goal. 1-5 students will be selected, and each will get $500 award amount.
The mission of Weekend Student Adventures is to foster fun, respectful, in-depth and unforgettable travel experiences for budget backpackers and students.
Eligibility:
• U.S Citizen currently enrolled as an undergraduate in the US (submissions accepted from valid .edu addresses only)
• Has already accepted or applied to study abroad in Europe before Spring 2018 (proof required)
• 3.0 GPA minimum
How to Apply:
• Applying process is completely on-line. You can complete the application form by the given link: http://www.wsaeurope.com/about/scholarship/wsa-scholarship-form/
• This year prompt is: Describe in a compelling delivery your overall goal for your study abroad experience. Expand on any academic, career, and/or personal goals that motivated your desire to go abroad, what interests you the most about your potential host country, and how the scholarship funds will help achieve your goals.
• Applications are accepted in the following formats:
1. Video submission: 60-120 seconds. The quality of editing and production will not be a major factor of consideration–more important is the content and your message.
2. Essay submission: Approximately two pages, 1000 words maximum
3. Creative piece: This option is essentially up to you: It can be a series of the best travel photos you've ever taken, a poster/collage, website, etc. This piece must still convey a clear and intellectual answer to the prompt.
Award Amount:
Scholarship amount of $500 each will be distributed between 1-5 students depending on award selections.
Application Deadline:
The fall 2016 WSA Cultural Bridge Scholarship deadline has been extended to August 1, 2016.
Link for More Information:
http://www.wsaeurope.com/about/scholarship/
Contact Information:
If you have more questions, you can email at: scholarships-at-wsaeurope.com