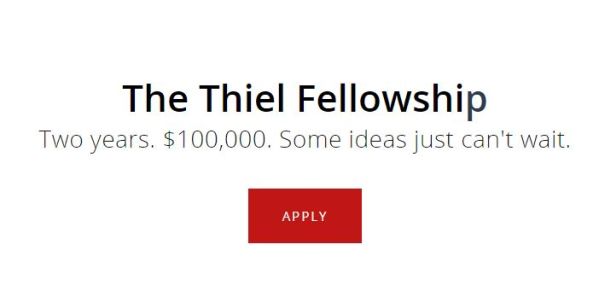 If you're under 23 and working on a cool project or company, the Thiel Foundation wants to hear about it through their "The Thiel Fellowship Program". Thiel Fellowship is a two-year program for young people who want to build new things. The fellowship is not an incubator or accelerator, so it's complementary to any other program that fits your project. Thiel fellows skip or stop out of college to receive a $100,000 grant and support from the Thiel Foundation's network of founders, investors, and scientists.
The Thiel Foundation supports science, technology, and long-term thinking about the future. The Thiel Fellowship was founded by technology entrepreneur and investor Peter Thiel in 2011.
Thiel Fellowship
Eligibility:
Candidates must be between 20 and 30 years.
You don't need to have incorporated a company or built a full product yet, but at a minimum, you'll need to demonstrate meaningful progress toward an interesting concrete vision.
How to Apply for Thiel Fellowship:
If you want to apply for The Thiel Fellowship, you are required to create your account. The link is:
https://thielfoundation.submittable.com/submit/45338/apply-for-the-thiel-fellowship
Financial Aid and Award Money:
Your $100,000 is a grant. So long as you're working, you can use the funds however you want, the Fellowship does not take any ownership stake in your project.
Application Deadline:
There is no application deadline. They accept rolling applications and review them as they come in. If you're working on something cool, you can apply.
Link for More Information: