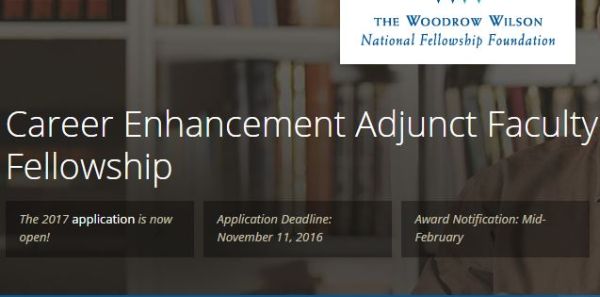 The Career Enhancement Adjunct Faculty Fellowship Program funded by the Andrew W. Mellon Foundation and administered by the Woodrow Wilson National Fellowship Foundation. The fellowship seeks to increase the presence of MMUF Fellows among tenure-track faculty in core fields of the arts and humanities. The Fellowship includes a $10,000 stipend. The six-month Fellowship period allows Fellows to focus on the research and scholarship necessary to secure a tenure-track position.
The Woodrow Wilson National Fellowship Foundation identifies and develops leaders and institutions to meet the nation's critical challenges.
Eligibility:
Applicant must hold a Ph.D. in order to be eligible for this fellowship.
Applicants must be U.S. citizens or permanent residents of the United States as of November 11, 2016 (include a copy of green card if a permanent resident).
How to Apply:
For applying the fellowship, the candidates are required to complete the Official application form and Department Chair Acknowledgment Form that can be downloaded through the given link:
http://woodrow.org/wp/wp-content/uploads/2016/09/CE-Adjunct-Application_Final.pdf
Supporting Documents:
Curriculum Vitae
Teaching Experience. List, by semester, the classes taught since the start of your tenure-track appointment
Personal Statement (4 pages maximum, double-spaced). The statement should include: how the award will allow you to enhance your academic credentials and assist you in attaining a tenure-track position, include a brief explanation of your tenure pursuit, describe your teaching philosophy and academic service experiences, and discuss your demonstrated commitment to eradicating racial disparities and promoting cross-racial understanding and support for students on your campus.
Research Plan (3 pages maximum, double-spaced). Describe your research plan in detail. This should NOT be a reiteration of the Personal Statement. Please focus on describing your research.
Projects: List the current major project(s) or proposed project(s) during the six-month award period.
Writing Sample (15 pages maximum). Submit a published work or an unpublished draft of scholarly work completed in the past 18 months. Preference will be given to submissions which are not dissertation chapters.
Two letters of recommendation. One letter should be from a supporter of your tenure search and the other from one who can address your proposed research. Letters of recommendation must be emailed directly to the program.
Submitting Details:
Email all application materials in a single pdf to careerenhance-at-woodrow.org. Include "Career Enhancement Adjunct Fellowship" and your full name in subject line. Letters of recommendation should be written on institution letterhead, signed, and emailed directly by referees.
Financial Aid and Award Money:
Two fellowships are awarded each year. Awards are as follows:
A $10,000 maximum stipend
Six-month award period (cannot be deferred)
One assigned mentor
Application Deadline:
Application deadline is November 11, 2016.
Link for More Information:
http://woodrow.org/fellowships/mellon/cef-adjunct/