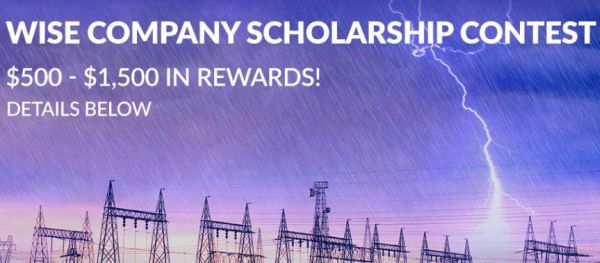 Wise Company takes an innovative approach in providing dependable, simple and affordable ready-made freeze dry and dehydrated food for emergency preparedness and outdoor use. With a firm dedication to America's future, the Wise Company is proud to announce its bi-annual scholarship program. The scholarship is open to legal U.S. residents, must be currently enrolled full-time at an accredited university in the U.S. The wise company will award three students a total of $3,000 this spring.
Wise Company, Inc. is a rapidly growing omnichannel manufacturer and marketer of freeze-dried and dehydrated foods for emergency preparedness, everyday consumption, outdoor activities and other occasions.
Eligibility:
• The Wise Company Scholarship Program is open only to those legal residents of the fifty (50) United States and the District of Columbia
• Thirteen (13) years of age or older at the time of application
• Currently enrolled (or have been accepted to enroll) in an accredited post-secondary institution of higher learning (e.g. College or university).
• Current employees, officers, directors and agents of Wise Company and its related companies and members of their immediate families (defined as spouse, parents, siblings, and children) and persons residing at the same address of any of the foregoing persons are not eligible to win.
How to Apply:
To be considered for a scholarship, the candidates must write an essay of 600-800 words on the given topic: What
social impact would a major failure of the aging U.S. power grid have on our country? And what can the average American do to better prepare for such a potential catastrophe?
The application must include name and contact information, background details, academic details, one letter of recommendation and include an essay.
Supporting Documents:
• Transcripts
• One letter of recommendation
Submitting Details:
You can email your complete application packet to Martin-at-wisecompanyus.com
Award Amount:
All the three winners will receive a Wise Company 52 Serving Emergency Food Kit and:
• The first placed winner will receive a scholarship prize of $1,500
• The second placed winner will receive a scholarship prize of $1,000
• The third placed winner will receive a scholarship prize of $500
Application Deadline:
June 1st, 2016 is the scholarship application deadline, and winners will be announced on or around July 1st, 2016.
Link for More Information:
http://www.wisefoodstorage.com/scholarship