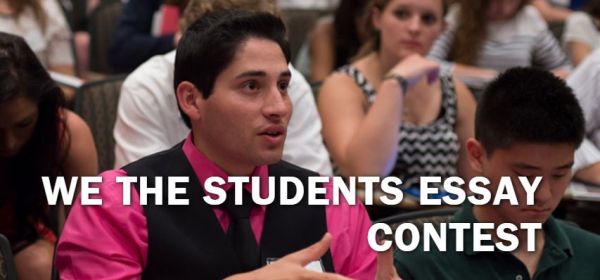 Do you want to win one of more than $20,000 in prizes and a trip to Washington, D.C.? Don't waste your time and apply today. You can win cash just by register yourself for "We the Students Essay Contest". The contest is open to students who are no older than 19 and no younger than 14 as of the end of the contest period. We the Students Scholarship Contest submissions will focus on the ideas of the Declaration of Independence, the Constitution, the Bill of Rights, and their relevance today.
The Bill of Rights Institute is a 501c3 non-profit educational organization that works to engage, educate, and empower individuals with a passion for the freedom and opportunity that exist in a free society.
Eligibility:
The Contest is open to all United States citizens or legal residents who are students who are no older than 19 and no younger than 14 as of the end of the Contest Period who
Attend school in the United States, one of its territories or districts, or an American Armed Forces School Abroad, and
Who are in grades 8 -12 attending public, private, religious, or charter schools, or are enrolled in a GED or correspondence school program, or are attending a home school program.
How to Apply:
In 500-800 words, answer the following question. In your answer, incorporate the principles and specific examples (including current events) that support your conclusion.
Financial Aid and Award Money:
1st Place – $5,000 and a scholarship to Constitutional Academy
Runners Up – Six prizes at $1,250 each
Honorable Mentions – Eight prizes at $500 each
Refer a Friend – Ten random drawings of $50 each
Step Two Submission – Ten random drawings of $500 each
Teachers of winning students: Fifteen at $100 each
Teachers with five nominations by students: Five at $50 each
Application Deadline:
Application Deadline is  February 5, 2017. Winners for the Bill of Rights Institute's We the Students Scholarship Contest will be announced on this website on or before April 14, 2017.
Link for More Information:
http://billofrightsinstitute.org/engage/students-programs-events/scholarship/
Contact Information:
You can contact them via email at scholarships-at-billofrightsinstitute.org or you can call at 703.894.1776.