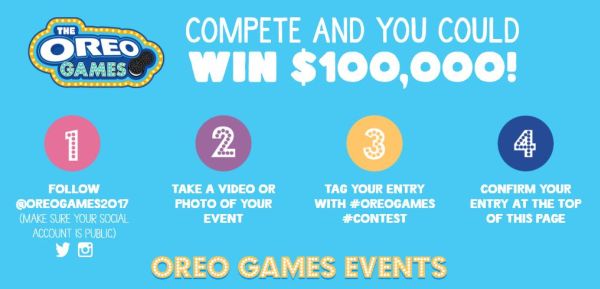 The Mondelez Global LLC is sponsoring the "Walmart Oreo Games Contest" that is administrated by HelloWorld, Inc. The contest is open only to residents of the 50 United States and D.C. who are 18 years of age and older at the time of entry. The purpose of the Mondelez Global LLC is to create more moments of joy and "to build the best snacking company in the world". Enter the Walmart Oreo Games Contest and you could win cash prizes worth up to $100,000 or fifty (50) Walmart gift cards (Total ARV $1, 45,100).
Mondelez Global LLC was incorporated in 2012 and is based in Deerfield, Illinois. Mondelez Global LLC operates as a subsidiary of Mondelez International, Inc.HelloWorld (formerly ePrize) was founded in 1999.It is a digital engagement agency specializing in mobile, social media, and web campaigns.
Eligibility:
The applicant must be residents of the 50 United States and D.C.
Must be 18 years of age and older as of the time of entry.
Employees of Mondel?z Global, LLC ("Sponsor"), HelloWorld, Inc. ("Administrator"), HMT Associates, Inc. Mojo Marketing, Inc., Walmart Stores, Inc., Mirum Shopper, their affiliates, subsidiaries and agencies (collectively "Promotion Parties"), and all respective employees, shareholders, officers, directors, agents, members, successors and assigns of the foregoing (all of the aforementioned referred to collectively, with Instagram, LLC, Twitter, Inc., (the "Released Parties") and members of their immediate family or persons living in the same household (whether related or not), are not eligible to participate in the Contest.
The Contest is void where prohibited by law.
How to Apply:
To enter this contest, the applicant can confirm your entry through the given link: http://oreogames2017.com/
Submit your best photo or video that illustrates these challenges to enter, along with the hashtags #OreoGames and #Contest
Submission Guideline:
First Phase – There are four different challenges to participate in, one per entry period. They are:
Entry Period 1: How creatively can you stack OREO Cookies on your head without holding them with your hands?
Entry Period 2: Build something unique out of OREO Cookies.
Entry Period 3: Show off your-your best OREO trick shot.
Entry Period 4: Submit a photo or video of your most epic fail from a previous entry period.
Final Phase – During the submission finals showdown phase, finalists must create a video of their OREO Story-O displaying their "wonder-filled moment" using at least three (3) different OREO products (the "Finalist Submission"). Example OREO Story-O's include, but are not limited to "favorite OREO memory", "if the world was made of OREO". Then, Finalists must use the URL provided in the winning email and follow the instructions to upload their Finalist Submission.
Each Finalist is limited to one (1) Finalist Submission during the Submission Finals Showdown Phase.
Video Guidelines:
The Finalist Submission must be in avi, dv, mov, qt, mpg, mpg2, mpg4, 3gp, 3g2, asf, or wmv format;
The Finalist Submission must contain at least three (3) different OREO products;
The Finalist Submission must not exceed two (2) minutes (must be strictly adhered to) in length;
The Finalist Submission must not exceed 1GB (1,000 MB) in size.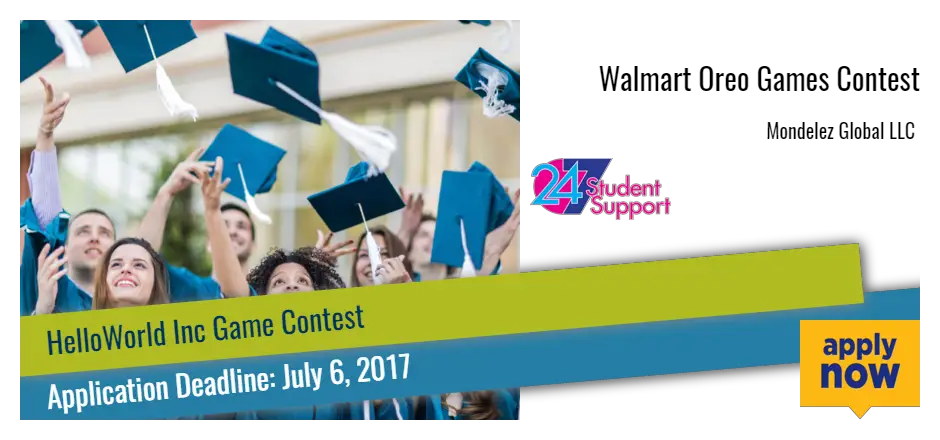 Financial Aid and Award Money:
Grand Prize: $100,000 in cash. (ARV: $100,000)
Three (3) Finalist Prizes: $5,000 in cash and a $100 Walmart gift card. (ARV: $5,100)
1st Runner-Up Prize: $10,000 in cash. (ARV: $10,000)
2nd Runner-Up Prize: $5,000 in cash. (ARV: $5,000)
Thirty (30) 2nd Prizes: A $500 gift card. (ARV: $500)
Fifty (50) Epic Fail Prizes: A $50 gift card. (ARV: $50)
All income taxes resulting from acceptance of prizes are the sole responsibility of the winners.
Application Deadline:
The contest challenges submission will close on July 6, 2017.
Link for More Information: