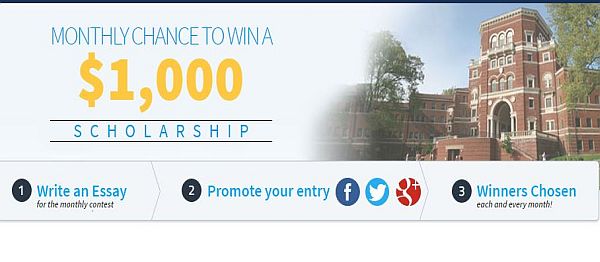 Varsity Tutors LLC is now accepting applications for its monthly scholarship contest. U.S. citizens, at least 16 years of age can participate in the contest. Varsity Tutors is a live learning platform that connects students with personalized instruction to accelerate academic achievement. The contest is a skill-based promotion with the object of providing your best possible answer to the question. $1000 scholarship award will be given to the winning candidate.
The mission of Varsity Tutors is to improve access to education by connecting students to top instructors
Eligibility:
• Open only to individuals who are at least 16 years of age on or before their entry into the Promotion.
• Individuals must be a legal resident of one of the fifty United States or the District of Columbia as of June 01, 2016.
• Directors, officers, and employees of Sponsor (defined below) or its agents, affiliates, subsidiary and parent companies, distributors, contractors, advertising and promotion agencies, and members of immediate families or households of any of the preceding persons are not eligible.
How to Apply:
Applications are available on the Varsity Tutors website from the 1st to the 15th of each month.
• To be entering in this monthly Varsity Tutors Scholarship Contest, you have to write an essay on the topic: What is the most important lesson you've learned from a teacher?
• Promote your entry
Essay Guidelines:
Each Submission must adhere to the following standards:
• The text must exceed 200 words and must not exceed 900 words.
• All essays must address the specific promotion question presented during Promotion Period, must be original, must not have been previously published, released, or distributed, and must have been created and must be owned exclusively by you.
• Content must not be of an offensive, explicit, negative, or controversial nature.
• The essay must follow an organized, multiple-paragraph format.
• The essay must exhibit the standard rules of grammar & mechanics.
Award Amount:
One (1) Grand Prize per Promotion Period equal to $1,000 Scholarship shall be awarded for the Promotion Period. The total value of all prizes to be given away is $1,000.
Application Deadline:
The entry period for the Varsity Tutors Scholarship Promotion (the "Promotion") will begin on July 01, 2016, at 12:00 AM CDT (the "Promotion Start Date") and ends on July 30, 2016, at 11:59 PM CDT.
Link for more Information:
http://www.varsitytutors.com/college-scholarship