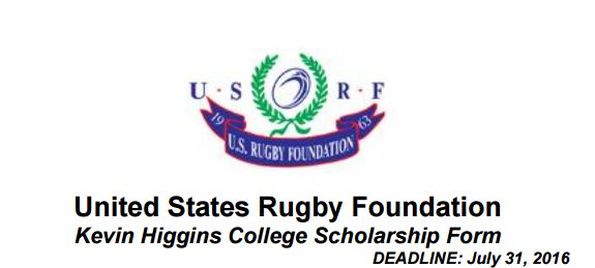 To honor one of the most prolific players to ever pull on a United States Eagles jersey, the United States Rugby Foundation is pleased to announce the eighth year of the Kevin Higgins College Scholarship Program. The scholarships are designed to provide financial assistance to graduating high school seniors who are looking to continue their education and rugby in college or university.  USRF intends to award upwards of 10 Kevin Higgins College Scholarships each $1,000 amount.
United States Rugby Foundation was established in 1963. The Foundation is completely independent of USA Rugby, its programs generally complement and support those of USA Rugby.
Eligibility:
The Kevin Higgins College Scholarships are open to graduating high school seniors.
Applicants must have a minimum 2.5 GPA on a 4.0 scale, demonstrate financial need, plan on attending an accredited four-year college or university with a recognized rugby program, and plan on joining said rugby program in the Fall of 2016.
The applicant's character, recommendations, community work, school extracurricular activity, rugby potential and personal statement will also be considered in the selection process
How to Apply:
Interested candidates can download scholarship application form through the given link:
http://www.kintera.org/atf/cf/%7B3277740A-9C0E-469B-85F4-5AE4F5EE8A2C%7D/2016KEVINHIGGINSSCHOLARSHIPFORM.PDF
Supporting Documents:
One or more letters of recommendation
List and explain community service, volunteer work and school extracurricular activity
Rugby resume
Official transcript(s) in an official and sealed envelope
Personal Statement
Copy of 2015 taxes (Form 1040 – pages 1 & 2; Form 1040A – pages 1 & 2; Form 1040EZ – pages 1 & 2)
Submitting Details:
You can send complete application packet to the following address:
United States Rugby Foundation
Kevin Higgins College Scholarship Program
2131 Pan American Plaza
San Diego, CA 92101
Award Amount:
1-10 Kevin Higgins Scholarships to be awarded for winning candidates and amount of each Kevin Higgins Scholarship award is $1,000.
Application Deadline:
Kevin Higgins College Scholarship Applications must be postmarked by July 31, 2016.
Link for More Information:
http://www.usrugbyfoundation.org/site/pp.asp?c=9fLHJVOxHmE&b=4040743