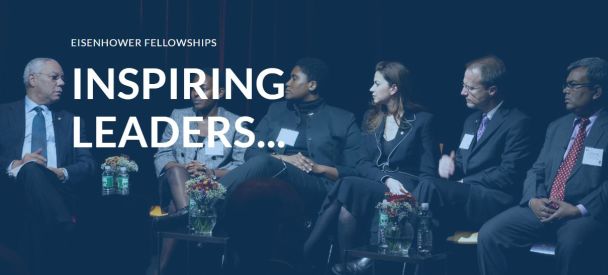 Dwight D. Eisenhower believed that democracy and citizen leadership characterize a strong nation. Hence the Eisenhower Fellowships Organization is offering the two fellowships named as the USA Eisenhower Fellowship" and the "EF Agriculture Program". These programs are open to U.S. citizens or legal permanent residents who generally fall within the age range of approximately 32 to 45 years old. The program's mission begins with identifying outstanding ascendant leaders who share President Eisenhower's belief in the powerful possibilities of a more peaceful, prosperous and just world.
Eisenhower Fellowships is a 501(c)(3) non-governmental organization. They believe, as Dwight Eisenhower did, that Eisenhower Fellowships exists in inspiring leaders around the world to challenge themselves, to envision how they can effect positive change, to engage others beyond their existing networks and to collaborate with other like-minded leaders across national borders and regions to better the world around them.
Eligibility:
Candidates for a USA Eisenhower Fellowship must be U.S. citizens or legal permanent residents.
Competitive applicants generally fall within the age range of approximately 32 to 45 years old, as this is a fellowship aimed at ascendant mid-career professionals, not students or full-time academics.
While they do consider candidates who are older or younger than this, the farther your age falls outside of this age range, the less competitive your application will be.
How to Apply:
To apply for the online application, you will need to register using your email address and choose a password. The link is: http://nextprograms.iacdemo.com/
Interested candidates can apply for one of two programs:
USA Eisenhower Fellowship
EF Agriculture Program
A Word version is available for you to work on offline at your convenience.https://www.efworld.org/uploads/files/78038983559915206-usa-2018-application-form.doc
Financial Aid and Award Money:
USA Eisenhower Fellowship: Nine candidates are awarded a five-week fellowship and typically visit one or two countries in the EF network.In collaboration with program staff and global Fellows, USA Fellows select the most professionally relevant and rewarding destinations. On a fellowship, they meet with leaders in their fields who would help them to achieve their program goals and are supported by Eisenhower Fellows in the region.
EF Agriculture Program: EF's Agricultural Committee selects one Fellow each year — an active farmer or rancher — to visit one or two countries in the EF network.Fellows have explored topics such as water conservation, soil health, animal husbandry and crop rotation.
Each USA Fellowship includes an orientation and leadership development seminar held in conjunction with one of EF's global programs.
Application Deadline:
Applications are due on June 2, 2017, by 12:00 am EST without exception. For the 2018 USA Fellowship, all candidates must submit their applications through the online application.
Candidates who are selected as finalists will be invited for an interview with an EF selection committee in July and August 2017.
Link for More Information:
https://www.efworld.org/our-programs/usa/usa-program-recruitment