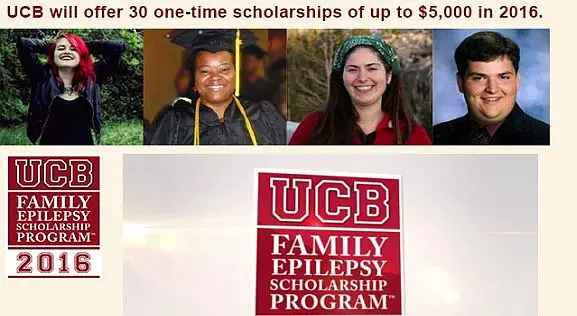 If you are willing to set some lofty goals for your future, UCB Family Epilepsy Scholarship Program is perfect opportunity for you. The UCB Family Epilepsy Scholarship Program offers educational scholarships to people living with epilepsy, family members and caregivers who demonstrate academic and personal achievement. This year, thirty people will be awarded scholarships of up to $5000.
UCB Family Epilepsy Scholarship Program is a trademark of the UCB Group of Companies. Since 2005, UCB has awarded over $1,700,000 to more than 340 deserving people who have applied their awards to undergraduate and graduate studies.
Eligibility:
To apply, you must certify that you are:
A legal resident of the United States
A person living with epilepsy or a family member/caregiver of a person living with epilepsy
Seeking an associate's, undergraduate, or graduate degree or enrolled in a trade school educational program
A student who demonstrates achievement, possesses a strong record of participation in activities outside of school, and serves as a positive role model
Graduating from high school in 2016 or have already graduated from high school
Enrolled in, or awaiting acceptance from, a United States–based center for higher learning for fall semester 2016
Not a previous recipient of the UCB Family Epilepsy Scholarship Program
Not an employee of UCB or an immediate family member of a UCB employee
How to Apply:
For applying the scholarship, the candidates must login through the given link:
https://ucbepilepsyscholarship.com/default.aspx
Supporting Documents:
A one-page essay authored by the applicant explaining why the applicant should be selected for the scholarship (e.g., outstanding awards or community involvement), how epilepsy has impacted the applicant's life, either as a person living with epilepsy or as a family member/caregiver, and how the scholarship will benefit the applicant.
3 letters of recommendation
School official's recommendation letter
Community member's recommendation letter
Healthcare team member's recommendation letter
Medical history form for the person living with epilepsy
A copy of the applicant's academic transcript
Students pursuing degrees in the arts are welcome to include an artistic presentation. This is an optional item.
Additional pages can be attached to the application if more space is needed for responses.
Award Amount:
UCB will offer 30 one-time scholarships of up to $5,000.
Application Deadline:
The deadline to submit a complete application and all required supporting documents is Friday, March 4, 2016.
Link for More Information:
https://ucbepilepsyscholarship.com/default.aspx