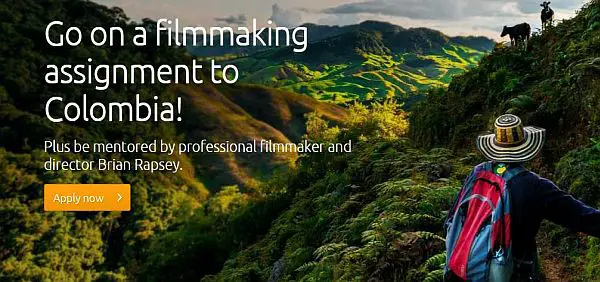 World Nomads is offering Travel Film Scholarship for non-professional filmmakers with minimum age 18 from all over the world. World Nomads are looking to focus on profiles of people who inspire travel over the world. Every year World Nomads offer travel scholarships to provide unique learning experiences for traveller looking to further their experience in travel photography, travel film and writing.
Experienced team of World Nomads bring service, underwriting expertise and technology, making us the number one choice for many of the world's leading travel brands such as Lonely Planet and National Geographic Adventure.
Eligibility:
Any non-professionals can apply – this is open to film students, or anyone who is trying to build a career in documentary style filmmaking
The scholarship is open to all nationalities, however, you must have an exceptionally high degree of proficiency in written English
Minimum age 18 (by application deadline)
You must have a current, valid passport and you must be available as per the dates set out. Please note these dates are not changeable in any way
You may be a resident of any country (subject to obtaining a colombian visa)
You should be a keen amateur with a lust for adventure and burning desire to be a filmmaker
You must be fit and healthy as moderate levels of physical work are involved as well as a number of late nights
How to Apply:
For applying the scholarship, the candidates must login themselves on the site. After register they are able to fill the application form for scholarship. The link is:
http://scholarships.worldnomads.com/application_form.aspx
Supporting Documents:
Write down what winning the scholarship would mean to you and why you should be chosen.
Film your documentary featuring the 'Profile of a Person who inspires you to Travel the World'. Your film should be no longer than 3-minutes and in English
Submitting Details:
The applicants can upload video on YouTube or Vimeo.
About the Award:
A 10-day all-expenses-paid trip in Colombia
Round-trip airfare from your country of residence to Bogotá, Colombia
10-day professional mentorship from Brian Rapsey
Travel insurance for the duration of the trip from World Nomads
Application Deadline:
The application deadline is 7 September 2015.
Link for More Information:
http://www.worldnomads.com/learn/travel-film/travel-film-scholarship-2015