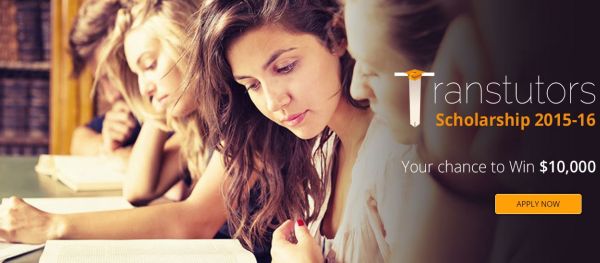 Do you want to win $10000 for your college education? If yes, Transtutors Scholarship Program can be a perfect option for you. Applicants have to be a college student from USA or AUS while applying or should be in college by April 2016. Just register, submit an essay and share your essay through email or social media to get votes and you could be able to win $10,000. You can invite anyone with a valid email id to vote for you.
Eligibility:
• The contest is open to college students of USA and AUS. Applicants should be a full-time college student during the time of application or as on May 31st, 2016.
• Employees and immediate family members of staff of Transtutors are prohibited from participating in the scholarship contest.
• The Contest is subject to all applicable federal, state, and local laws and regulations. Void where prohibited.
How to Apply:
Applying for the scholarship, the candidates must follow the given steps:
• Entrant must have or create an account on Sponsor's website www.transtutors.com (the "Site")
• Using Entrant's account, Entrant must submit an application to https://www.transtutors.com/scholarship during the Promotion Period
• Entrant must provide the two-year or four-year college or university within the United States to which Entrant is enrolled or expects to be enrolled within the next four months
• In the application, Entrant must write an essay in English containing no more than 500 words answering the question: "What do you expect out of college?" The essay must be the sole original work of the Entrant
• Only one entry per person during the Promotion Period is permitted
• Share your essay through email or social media to get votes. More votes increase your chance to get into the final round.
Award Amount:
The winner will be eligible to receive a scholarship of $10,000.
Application Deadline:
The Contest commences Dec 1st, 2015 and ends on May 31st, 2016, at 11:59 p.m. Central Time (the "Promotion Period").
Link for More Information:
http://www.transtutors.com/scholarship/