The Thurgood Marshall College Fund (TMCF), in partnership with Lowe's, is pleased to offer "TMCF | Lowe's Gap Scholarship". Undergraduate students who are in their final semester of their degree program and scheduled to graduate in the spring or summer 2017 semesters are eligible to apply. The scholarship is designed to provide financial assistance to students pursuing their educational goal. Award amount of the scholarship is $500 to $3,100.
Thurgood Marshall College Fund is the nation's largest organization exclusively representing the Black College Community. Through scholarships, capacity building and research initiatives, innovative programs, and strategic partnerships, TMCF is a vital resource in the PK-12 and higher education space. The organization is also the source of top employers seeking top talent for competitive internships and good jobs.
Eligibility:
To be applying for the scholarship applicants must be:
Be a graduating college Senior for the Spring or Summer 2017 semesters
Attend one of the TMCF's 47 member-schools
Have a minimum cumulative GPA of 2.0 on a 4.0 scale
Have an outstanding account balance between $500 and $3,100
International applicants are eligible in addition to U.S citizens or legal residents
How to Apply:
To be applying you must sign up yourself through the given link: https://apply.tmcf.org/
Supporting Documents:
You are encouraged to apply if you are
Resume (should demonstrate community service and leadership abilities)
Current Account Balance Statement
2016 Student Aid Report
College Transcript (official or unofficial)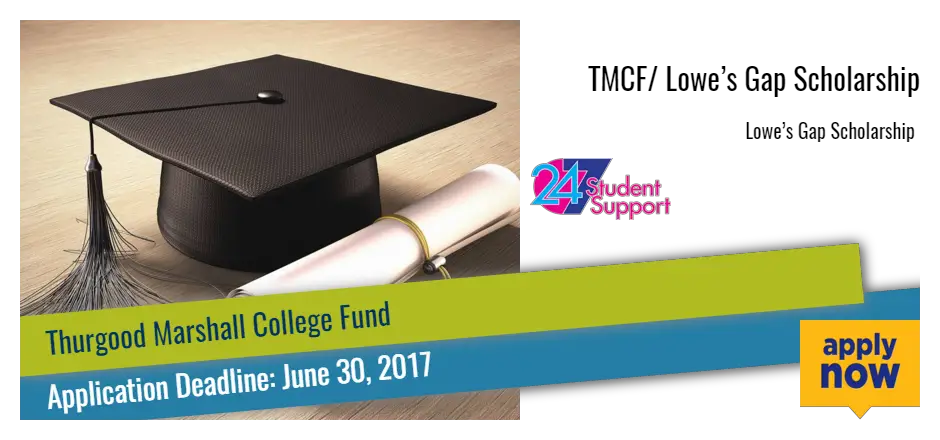 Financial Aid and Award Money:
The award range from $500 – $3,100 of the scholarship will be given to the winning candidates.
Application Deadline: 
Applications for the scholarship program will be accepted until June 30, 2017.
Link for More Information:
https://tmcf.org/our-scholarships/current-scholarships/tmcf-lowes-gap-scholarship/5459