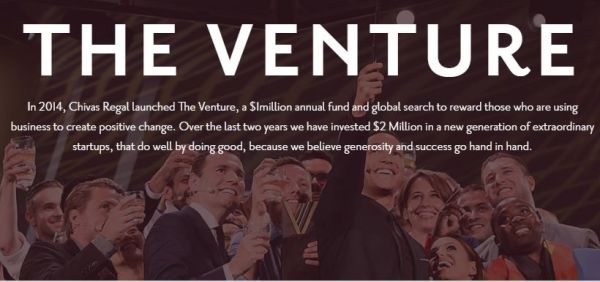 Chivas Regal is looking for social businesses from around the world that are using business to help create a better future, that's why they are offering The Venture Competition. If you run an innovative social business that is helping to create a better future, they want to hear from you. Successful applicants will have a chance to pitch for a share of The Venture's $1Million fund and will receive world-class mentorship to help accelerate their growth. Through this competition, they are searching for exceptional startups that use business innovatively to transform communities and solve global challenges.
In 2014, Chivas Regal launched The Venture, a $1million annual fund and global search to reward those who are using business to create positive change.
Eligibility:
In order to enter as a potential startup or startup idea, your resident country must be in one of these countries: Argentina, Australia, Belgium, Brazil, Bulgaria, China, Colombia, Czech Republic, Dominican Republic, Germany, Greece, Gulf, HongKong, Hungary, Israel, Japan, Kenya, Malaysia, Mexico, Nigeria, Netherlands, Poland, Portugal, Romania, Slovakia, South Africa, Spain, Thailand, UK, and US
You must be over 25 to enter The Venture.
Make sure you check out your local Terms & Conditions should you choose to apply for further eligibility requirements. The link is: http://www.chivas.com/en-ng/the-venture/venture-legal/the-venture-terms-and-conditions
You will have a strong vision, a compelling idea, and a solid business plan.
You'll also need to showcase how your business has a positive impact and articulate how funding would help to take your business to the next level.
To participate in the Global Competition you must be available to travel to the "Accelerator Week" in  March 2017 in Oxford and London, UK (exact dates to be confirmed) and "The Venture Final Pitch" on 10 to 14 July 2017 (likely to be in the USA. If you are unable to attend then you must withdraw from the Competition
How to Apply:
You can apply by the given link, to be entering in the contest: http://www.chivas.com/en-ng/the-venture/venture-articles/the-venture-application-opening-and-closing-dates
Financial Aid and Award Money:
The prize for the winner(s) of the Global Competition is a share of a fund of US$1,000,000 (the "Fund"), with the prize money available in two separate stages: the consumer voting and also the final pitch and exposure for your business through participating in the Global Competition.
Application Deadline:
Application close date – each of the countries participating in The Venture have their own application deadlines.
Link for More Information:
http://www.chivas.com/en-ng/the-venture/about