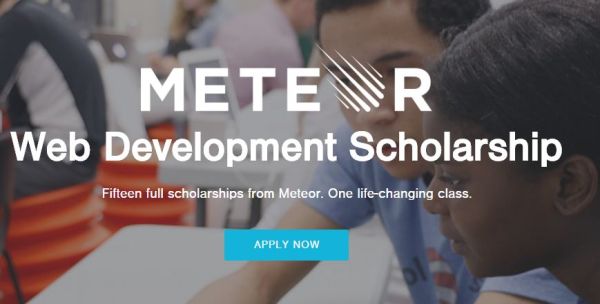 Flatiron School is proud to announce a partnership with Meteor to bring programming skills to young women in NYC area. The Meteor Web Development Scholarship program will give girls from economically disadvantaged backgrounds located in the New York area the opportunity to begin shaping their own futures. 15 scholarships will be given for high school girls to learn web development and design next spring 2016.
At Flatiron Pre-College Academy, high school students learn programming skills professional developers use to build today's most popular apps and websites.
Eligibility:
Young women
Ages 13-18 attending high school
Living in the NYC area
Excited to learn code — no prior experience necessary
How to Apply:
For applying the scholarship, the candidates must complete the on-line scholarship application form through the given link:
http://go.flatironschool.com/meteor-scholarship-application-1
Award Amount:
Fifteen Meteor scholarship recipients will attend an Intro to Web Development and Design course this spring, with all tuition expenses paid. The course is valued at $1,500 per person.
Application Deadline:
Application deadline is January 5, 2016.
Link for More Information:
https://precollege.flatironschool.com/meteor-web-development-scholarship