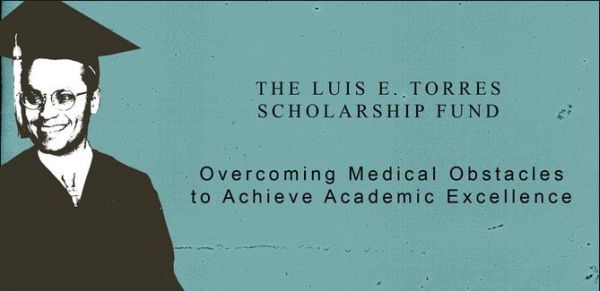 The Luis E. Torres Scholarship Award is designed to assist students who have overcome a medical hardship in pursuit of higher education. Scholarships are available on a competitive basis to graduating high school seniors, community college students, community college transfer students, undergraduate students and graduates students.
The Luis E. Torres Scholarship Award was created to honor the memory of an amazing son, wonderful brother and dedicated teacher.
Eligibility:
Scholarships awarded to individual(s) with a documented illness/disability
Be a U.S. citizen or legal permanent resident with a permanent resident card or passport stamped I-551 (not expired)
Have a minimum cumulative grade point average (GPA) of 2.5 on a 4.0 scale
Have plans to enroll full-time in a degree seeking program at a two or four year U.S. accredited institution in the U.S., Puerto Rico, U.S. Virgin Islands or Guam during the 2015-2016 academic year
Must apply for federal financial aid by completing the Free Application for Federal Student Aid (FAFSA)
Be pursuing first undergraduate or graduate degree
How to Apply:
To be applying for the scholarship, the candidates must fill the application form. The form can be downloaded by the link:
http://www.luisetorresscholarshipfund.org/2015_Scholarship_Application.pdf
Submitting Details:
The candidates can submit the application form either by electronically or by postmark.
The candidate can email to: Infi-at-luisetorresscholarshipfund.org
Or
The applicants can mailed the complete application packet to:
PO Box 975 Lutz, FL 33548
Supporting Documents:
Official copy of student's transcript
A letter of recommendation from you treating physician
Award Amount:
Award amounts generally range from $500 to $1,000.
Application Deadline:
Application must be received by August 15, 2015.
Link for More Information:
http://www.luisetorresscholarshipfund.org/Scholarship.html