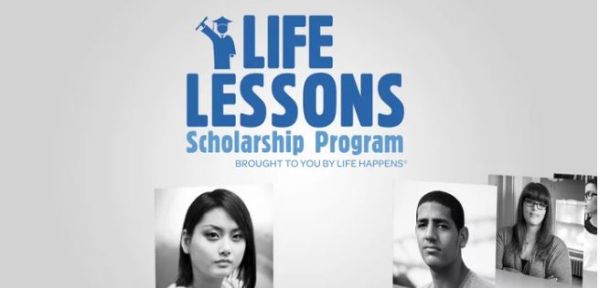 A college education is already a major financial challenge for most American families, but it becomes infinitely more difficult for a student when a parent dies, leaving little or no life insurance. That's why The Happens has created an annual "The Life Lessons Scholarship Program" for college students and college-bound high school seniors.Purpose of the programis helping to those students who are struggling financially to get a college education, due to a parent dying with little or no life insurance. The program will pay the grand prize of $10,000 to the best video or essay.
The Life Happens' mission is to inspire the public and helping Americans to take personal financial responsibility through the ownership of life insurance and related products. It was formed in 1994 by seven leading insurance producer organizations.
Eligibility:
To be eligible for scholarship, applicants must meet the following criteria:
The program is open only to legal residents of the fifty (50) United States, the District of Columbia and Puerto Rico.
Who are between 17 and 24 years of age, have experienced the death of a parent or legal guardian, and are currently enrolled in,
A candidate who have been accepted to a college, university or trade school within the fifty (50) United States, the District of Columbia or Puerto Rico.
Employees of Life and Health Insurance Foundation for Education ("Life Happens" or "Sponsor"), Weber Shandwick, and their respective parents, affiliates, subsidiaries, advertising, promotion agencies, any such employee's immediate family members (spouse, parent, child, sibling and their respective spouses) and those living in their same households, whether or not related, are not eligible to enter or win a scholarship.
A minor should have a parent's or legal guardian's permission to enter. Void where prohibited by law.The Scholarship Program is subject to all applicable federal, state and local laws.
How to Apply:
If you're interested in the Life Lessons Scholarship Program, the 2017 Life Lessons Scholarship Program will open on February 1, 2017, 9:01 a.m. Eastern Time ("ET")
To enter, candidate can submit on-line application through the given link: lifehappens.org/scholarship
Essay& Video Guidelines:
In a 500-word essay or a 3-minute video, discuss how the death of your parent or guardian affected your life financially and emotionally.
Be sure to describe how the loss of your parent/guardian impacted your college plans (e.g., your ability to afford college, attend the college of your choice, etc.).
Comment specifically on how things might have turned out differently for you and your family if the person who died had adequate life insurance coverage.
Also, indicate what you have done to provide for yourself and/or other family members because of financial challenges your family has faced.
Financial Aid and Award Money:
The program will pay the grand prize of $10,000 to the best video or essay.
Application Deadline:
The deadline for the Life Lessons Scholarship program is 4:00 p.m. ET on March 1, 2017.
Link for more Information:
http://www.lifehappens.org/life-lessons-scholarship-program/life-lessons-scholarship-application/
Contact Information:
If you have any questions, you can contact: email – scholarship-at-lifehappens.org or call 202-464-5000 ext. 4446.