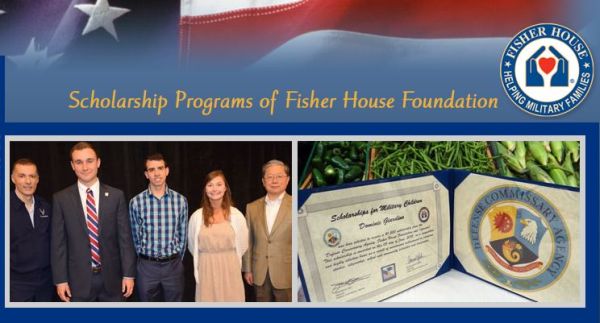 The Fisher House Foundation is honored to be involved with the Scholarships for Military Children Program. The program supports the military community through programs such as this scholarship. The Scholarships for Military Children Program was created in recognition of the contributions of military families to the readiness of the fighting force and to celebrate the role of the commissary in the military family community. A total of 700 scholarship grants, each for $2,000, will be awarded for school year 2016-17.
For 25 years, Fisher House has been dedicated to meeting the needs of our Nation's service members, veterans and their families.
Eligibility:
Only dependent unmarried children under age 23 of active military duty personnel, reserve/guard and retired military members, or survivors of service members who died while on active duty or survivors of individuals who died while receiving retired pay from the military, may apply for a scholarship.
Dependent children of NOAA (National Oceanic and Atmospheric Administration), Public Health Service, other federal or military related agencies or activities, or DoD civilian employees are not eligible unless they meet the above requirement.
Applicants must be enrolled, or planning to enroll, in a full-time undergraduate degree program at an accredited U.S. college or university in the fall term of 2016.
Applicants who have earned an undergraduate degree or who are enrolled in a graduate degree program are not eligible.
High school applicants must have a minimum unweighted GPA of 3.0 (on a 4.0 basis) to be eligible to apply.
College applicants must have a minimum unweighted GPA of 2.5 (on a 4.0 basis) to be eligible to apply.
How to Apply:
Interested candidates can download the application form through the given link:
http://www.militaryscholar.org/sfmc/ScholarshipsForMilitaryChildren2016-Official.pdf
Supporting Documents:
Write an essay on the following topic. Essay must be 500 words or less, typewritten or computer-generated, double spaced, and no longer than 2 pages. Place your name in the upper right hand corner of each page of the essay.
Obesity is among the leading causes of military ineligibility among people 17 to 24, affecting nearly 30% of men and women in this age group. Specifically, how would you address this problem and what are your proposed solutions? What would be the challenges with implementing your plan?
Transcript (or copy of your grades)
 Submitting Details:
The application packet must be submitted to one of the following: Commissary Director, her/his designee, Customer Service Desk, or Cashier's Office at the Commissary of your choice.
Award Amount:
The 2016 Scholarships for Military Children Program will award $2,000 non-renewable scholarships. Prior year recipients must reapply to be considered.
Application Deadline:
The completed application must be submitted no later than February 12, 2016.
Link for more Information:
http://www.militaryscholar.org/sfmc/index.html
Contact Information:
You can direct any questions or concerns to SM at (856) 616-9311 ormilitaryscholar-at-scholarshipmanagers.com.