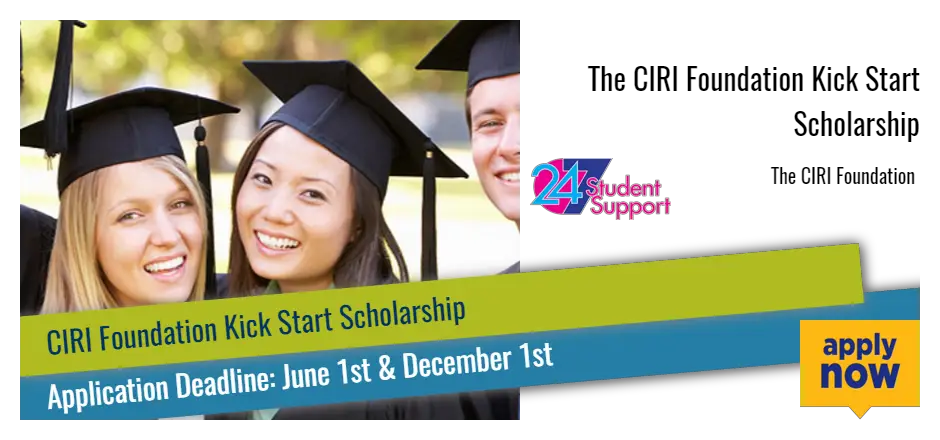 The CIRI Foundation (TCF) would like to announce a scholarship termed as "Kick Start Scholarship". If you are a first-time, post-secondary applicant to the CIRI Foundation and do not have a cumulative GPA of 2.5 or higher then you can apply for the scholarship program. The goal of CIRI is to perpetuate and enhance the heritage of Cook Inlet region's Alaska Native people through programs that foster appreciation and understanding by the general public.The successful applicant will receive award amount up to $2,000.
The CIRI Foundation (TCF) is a private foundation established in 1982 by the Cook Inlet Region, Inc. (CIRI) Board of Directors to encourage education and career development of Alaska Native original enrollees of CIRI and their direct lineal descendants. The major goal of The CIRI Foundation is to encourage the education and career development of The Foundation's Alaska Native beneficiaries through post-secondary scholarships and grants, research and other education projects.
Eligibility:
Scholarship Applicants must meet the following criteria
CIRI original enrollee or direct lineal descendant
Must have a high school diploma or GED
Must be the first term of post-secondary education
Enrolled in one of the following degree programs: Associates, Bachelors, Masters, or Doctorate; Post-Baccalaureate program of study or pre-requisite courses before entering into a degree program
Must be attending an accredited institution
A 2.0 cumulative grade point average or higher
How to Apply:
You must online application system to the scholarship, to be applying you can go through the given link and create an account: https://www.thecirifoundation.org/webapp/CreateAccountStepTwo.aspx
Financial Aid and Award Money:             
The winner will get scholarship awards up to $2,000
Personal expenses in the amount of $500 per term can be awarded only if all other costs have been covered
Application Deadline: 
Application deadline is June 1 or December 1, 2017, you must reapply at the next deadline under the regular guidelines to be considered for additional funding. It is your responsibility to reapply.
Link for More Information:
http://thecirifoundation.org/scholarships/