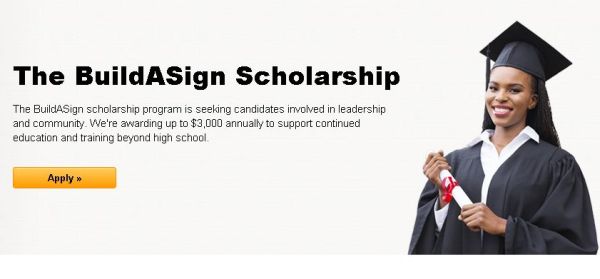 The BuildASign.com is pleased to offer its bi-annual scholarship program. The scholarship is open to high school students who have been accepted into college or current undergraduate or graduate students. The program is seeking candidates who are involved in leadership and community. They are awarding up to $3,000 annually to support continued education and training beyond high school.
BuildASign was founded in 2005 with one goal in mind, revolutionize the printing industry. BuildASign.com is a leading online custom printing provider of signage and home decor items. Products include signs, canvas, apparel, business cards, car wraps and more.
Eligibility:
The buildasign Scholarship Program is open only to those legal residents of the fifty (50) United States and the District of Columbia
Who are thirteen (13) years of age or older at the time of application and who are currently enrolled (or have been accepted to enroll) in an accredited post-secondary institution of higher learning (e.g. College or university).
Current employees, officers, directors and agents of buildasign and its related companies and members of their immediate and persons residing at the same address of any of the foregoing persons are not eligible to win.
How to Apply:
The candidates can apply on-line through the given link and upload the supporting documents through the given link:
https://buildasignforms.wufoo.com/forms/zmj2lx903ya299/
Supporting Documents:
Essay- A core value at BuildASign is innovation, which sometimes comes from unlikely places.
In an essay between 500 and 750 words, tell us about a time you did one of the following:
Challenged a commonly held belief or idea
Created something new to solve a problem
Persevered through rejection
High School or College Transcript- 3.5 or higher cumulative GPA required
Reference- One letter of recommendation
Award Amount:
The winner will receive a Scholarship Prize in the amount of one thousand five hundred dollars ($1,500).
Application Deadline:
The application deadline is April 29, 2016 at 11:59 pm Central Time Zone.
Link for More Information:
https://www.buildasign.com/scholarships
Contact Information:
For more information, contact: Megan Allsup at: megan-at-meetkickstand.com