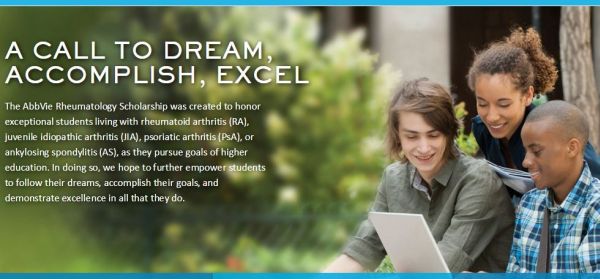 The AbbVie Rheumatology Scholarship is sponsored by AbbVie, and is subject to all applicable federal, state and local laws. The scholarship is for students living with RA, JIA, PsA, or AS, who are seeking an associate, undergraduate, or graduate degree from an accredited U.S. university or college, or an educational diploma from a trade school. The Scholarship provides financial support for exceptional students to pursue their higher education goals. Fifteen Rheumatology Scholarships of $15,000 each will be given to the winning recipient.
The AbbVie, a global biopharmaceutical company that has the ability to discover and advance innovative therapies and meet the health needs of people and societies around the globe.
Eligibility:
To be eligible to apply, applicants must be:
A U.S. citizen or a legal and permanent resident of the U.S.
The AbbVie Rheumatology Scholarship is designed to provide financial support for exceptional students living with rheumatoid arthritis (RA), juvenile idiopathic arthritis (JIA), psoriatic arthritis (PsA) or ankylosing spondylitis (AS)
Enrolling in or currently attending an accredited U.S. institution (e.g., college, university, or trade/vocational school) for an education during the 2016–2017 academic year.
It is not necessary for applicants to have taken, currently take, or intend to take in the future any medicine or product marketed by AbbVie, and this will not be a consideration in the recipient selection criteria.
Employees of AbbVie and their immediate family members are not eligible. Healthcare providers and their immediate family members are not eligible. Patients contracted by AbbVie through Patient Health Perspectives ("SPEAK Network") are not eligible.
Students applying for this scholarship must have completed high school or obtained a General Educational Development (GED) certification before June 2016.
How to Apply:
For applying scholarship, the candidates must complete application form. Application form can be downloaded through the given link:
http://www.rheumscholarship.com/pdf/Scholarship-Application.pdf
Supporting Documents:
Submitting Details:
You can submit application form and supporting documents either on-line or off-line.
Spectrum
ATTN: 2016 Rheumatology Scholarship
2001 Pennsylvania Avenue NW
Second Floor
Washington, DC 20006
Award Amount:
Fifteen Rheumatology Scholars will be selected. The award value will be $15,000 for each recipient.
Application Deadline:
Students may submit their application at any time during the application acceptance period (February 1, 2016 – April 4, 2016).
Link for More Information:
http://www.rheumscholarship.com/scholarship-details
Contact Information:
If you have questions about the application process, you can email: info-at-rheumscholarship.com.