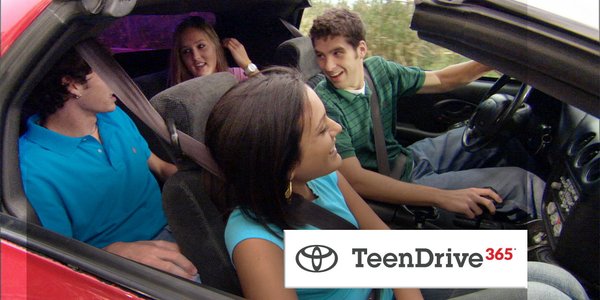 Create a 30-60 second video for your fellow teen drivers that highlight the importance of safe teen driving and you could win $15,000, or one of 14 other prizes. The 2017 TeenDrive365 Video Challenge Contest is offered by the Toyota and Discovery Education for 13 years of age candidates, who are enrolled in 9th through 12th grade at a public, private, parochial, or home school. The contest empowers teens to put that vision on camera and save teen lives. Approach your video submission as your chance to find a message that would resonate with you and your peers.
Toyota and Discovery Education have partnered to create TeenDrive365: In School (formerly Toyota Teen Driver), a comprehensive program that is designed for educators and teens to promote safe teen driving.
 Eligibility:
The TeenDrive365 Video Challenge ("Contest") is open to legal U.S. residents
who are at least thirteen (13) years of age
Students are enrolled in 9th through 12th grade at a public, private, parochial, or home school located in one of the fifty United States or the District of Columbia, at the time of entry and when prizes are awarded.
Employees, officers and directors of Discovery Communications, LLC ("Sponsor"), its promotional partner Toyota Motor Sales, U.S.A., Inc. ("TMS"), Toyota Motor North America, Inc. ("Toyota"), Promotion Mechanics, Inc. ("Administrator"), their parents, subsidiaries, affiliates, advertising agencies, promotional suppliers, and the immediate family members (spouse, siblings, and children, regardless of where they live) or members of the same households (whether related or not) of such employees, officers and directors (collectively, "Contest Entities") are not eligible.
How to Apply:
To be applying for the scholarship, follow the given steps:
Open a user account by registering for the challenge. You can create your video individually or with up to three friends. Once you have registered and your parent has authorized your participation, you will be able to log in and follow the steps to submit your video. The link for register: http://www.teendrive365inschool.com/user/register?destination=/teens/video-challenge/registration
Be creative! Create your video with a solution to end distracted driving anyway you like, but be sure to include the TeenDrive365 end frame at the very end. You can download this end frame from the Video Challenge homepage
 Submitting Details: 
Submit your video as a YouTube link. Make sure that you title your video "TeenDrive365 Video Submission – [Your title]" and that your video is set for public viewing.
Financial Aid and Award Money:
1st Place: $15,000 and the chance to work with a Discovery film crew to reshoot your video into a TV-ready PSA!
2nd Place: $10,000 and a behind-the-scenes trip to a Velocity show taping
3rd Place: $7,500
People's Choice: $5,000 and a behind-the-scenes trip a Velocity show taping
4th Place – 10th Place: $2,500
Four Regional Winners: $1,000
Application Deadline:
The closing date for applications is February 23, 2017.
Link for More Information:
http://www.teendrive365inschool.com/teens/video-challenge
Contact Information: If you have any question, email at teendrive365-at-discovery.com