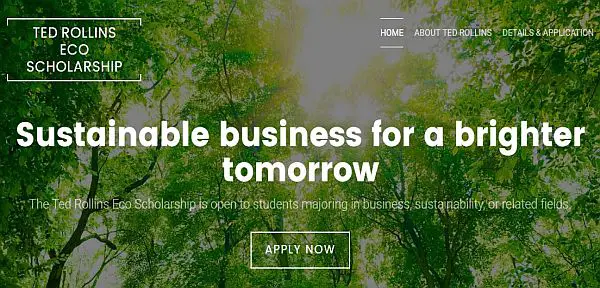 Are you a high school graduate or undergraduate looking to offset the cost of your business, sustainability or marketing degree? If yes, Ted Rollins Eco Scholarship may be a perfect choice for you. Ted Rollins and TXG Capital award a $1,000 scholarship each year to one talented student who is majoring in a field related to sustainability as visionaries for the future of sustainability, we have a responsibility to protect and enhance the environment around us. The money may be used to pay for tuition, books or living expenses.
Ted W. Rollins, Co-Chairman and Founding Principal of Valeo Groupe is focused on niche opportunity investing in both real estate and financial service sectors, particularly those that balance economic, environmental and social outcomes.
Eligibility:
• High school seniors and college undergraduate students.
• Major (or plans to major) in a field related to sustainability.
• Must plan to take at least ten credit hours during the Fall 2016 semester.
How to Apply:
• Applying for the scholarship, the candidates must complete the on-line scholarship application form through the given link: http://www.tedrollinsecoscholars.com/apply-now/
• Upload a 500-word essay on one of the following topics:
1. How has sustainability impacted our world today vs. 50 years ago?
2. Why do you think sustainable business practices are important and what are some examples?
3. How can companies ensure their sustainability efforts are honest, responsible and beneficial to the environment?
4. How can go green differentiate a business from its competition?
5. In your opinion, what is the future of sustainability?
Award Amount:
The winning candidate will get an award of $1,000 scholarship.
Application Deadline:
Submit the application form, along with your essay, by June 15th, 2016. The winner will be notified by July 1, 2016.
Link for More Information: 
http://www.tedrollinsecoscholars.com/apply-now/
Contact Information:
If you have any questions about the scholarship, you may contact:
Ted Rollins
9101 Southern Pine Boulevard
Charlotte, NC 28273
scholarship-at-tedrollinsecoscholars.com