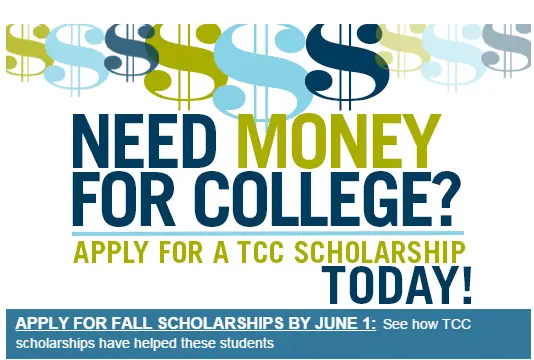 Through the generosity of area individuals, businesses, foundations and the Tidewater Community College (TCC) Educational Foundation, TCC offers a variety of scholarship opportunities to help lessen the financial burden of tuition and college expenses.
These scholarships and employment opportunities are in addition to other financial opportunities available to qualified students through the TCC Financial Aid Office in the form of grants, loans, military assistance and other traditional forms of financial aid.
 Eligibility: In order to qualify for financial aid sources, a student must meet the following criteria:
The candidate is a U.S. citizen or national or an eligible non-citizen as defined by the U.S. Department of Education.
Be enrolled in an eligible curriculum for financial aid purposes.
Have a high school diploma or general education development (GED) certificate, or have completed a secondary school education in a home school setting that is treated as a home school or private school under State law.
Be meeting the Standards of Satisfactory Academic Progress (SAP) at Tidewater Community College.
Have not defaulted on a federal student loan or owe an overpayment on a federal aid program.
How to Apply:
Interested candidates can be apply on-line by filling the application form and they must complete a separate application for each scholarship. The link for download the application form is https://tidewatercc.wufoo.com/forms/educational-foundation-scholarship-application/
Application deadline:
The Application deadline is June 1, 2015.
Link for Scholarship:
http://www.tcc.edu/students/admissions/scholarships/