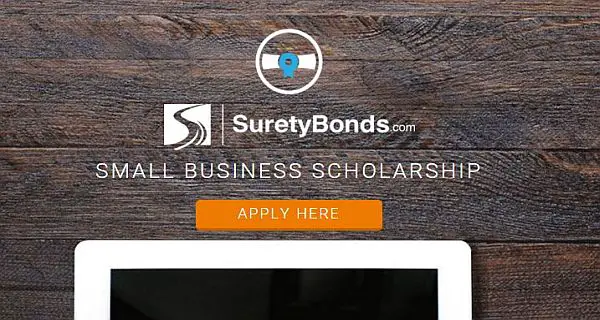 Are you ready to win $1500 award? Apply today for the SuretyBonds.com Small Business Scholarship. The scholarship is open to any citizen and/or resident of the United States. To be enter in contest you must just submit an essay and you could get a chance to win a $1500 scholarship to use toward furthering their education at the college or university of their choice. Three winners will be selected.
SuretyBonds.com provides efficient, innovative, and informed surety bond solutions nationwide. The goal at SuretyBonds.com is to create the path of least resistance for our clients at the best price.
Eligibility:
The SuretyBonds.com Small Business Scholarship is open to any citizen and/or resident of the United States (and its territories and possessions) that will be enrolled at an institution of higher learning full-time for Fall Semester 2016.
Each student may only submit one entry.
How to Apply:
For applying the scholarship, the candidates must submit an original essay (500-1,000 words) about how small business ownership (personal, parent, grandparent, or legal guardian) has shaped you into the person you are today.
Submitting Details:
You can send your essay along with all the required information to scholarships-at-suretybonds.com
His or her first and last name
Valid email address
Permanent mailing address
Date of birth
Institution to be attended fall 2016
Area of study
Anticipated college graduation date (month/year)
Name of small business experience is based on
Industry the small business operates within (automotive, finance, childcare, etc.)
Number of employees who work at the small business
Award Amount:
The 10 finalists will be notified via email and will be featured on the official SuretyBonds.com voting platform. The three winners will be determined. Winners will each receive a one-time scholarship check of $1,500 to be used for future educational expenses.
Application Deadline:
All entries must be received no later than March 31, 2016, to be eligible for the contest.
Link for More Information:
https://www.suretybonds.com/scholarships