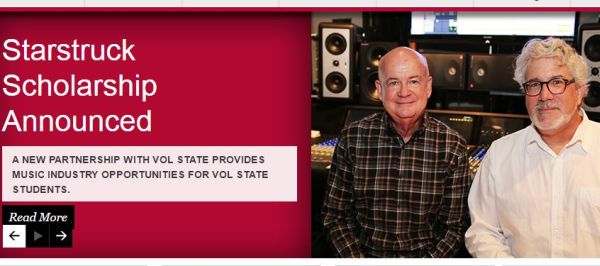 Starstruck Entertainment of Nashville and Volunteer State Community College have teamed up to provide a scholarship and the possibility of future music industry opportunities for Volunteer State Community College students. The goal of Starstruck Scholarship is to elevate that to a place where deserving students can get financial assistance, have a relationship with Starstruck, and receive an outstanding education focused on their talent and dreams. Scholarship funding will include the estimated cost of attendance for tuition/fees and books/supplies.
Volunteer State Community College is a public, comprehensive community college offering associate degrees, certificates, continuing education, and service to northern Middle Tennessee.
Eligibility:
Must be a legal resident of Tennessee and eligible to enroll as a full-time student at Volunteer State Community College
Must be a Music or Entertainment Media Production major planning for a career in the entertainment industry as a singer/songwriter
How to Apply:
The candidates must complete the following forms on-line through the given link:
http://www.volstate.edu/entertainment/forms/starstruck_form.php
Complete Volunteer State Community College application and the Free Application for Federal Student Aid (FAFSA)
Complete Starstruck Entertainment Scholarship Application Form (including 3 Letters of Recommendation and a link to a performance video or sound file)
Finalists also must audition in person for the committee that will select the scholarship recipient (auditions to be held August 8-12, 2016)
Award:
Scholarship recipient agrees to enroll full-time at Volunteer State Community College for Fall 2016 and Spring 2017 in one of the eligible majors (must be able to attend classes in person at the Gallatin campus)
Scholarship funding will include the estimated cost of attendance for tuition/fees and books/supplies and is renewable for the length of the degree program, contingent on satisfactory academic progress
Scholarship recipient will attend regular meetings with college personnel and/or Starstruck Entertainment staff to discuss goals and progress
Internship opportunities with Starstruck Entertainment will be available from the second semester forward (nondisclosure agreement required)
Scholarship recipient will be signed to Volunteer State Community College's record label during the scholarship year(s)
At the end of the scholarship, Starstruck Entertainment will hold the right of first refusal to sign the scholarship recipient to a new artist agreement and/or publishing agreement
Application Deadline:
The application is due by August 1, 2016, at 5:00 pm CST. Any application submitted afterward will not be considered.
Link for More Information:
http://www.volstate.edu/Entertainment/scholarships.php
Contact Information:
For questions, you can contact the Humanities Division Office at (615) 230-3200.