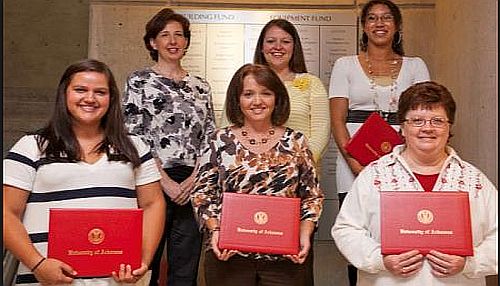 The Barbara G. Taylor Staff Senate Scholarship, the Rick A. Haley Memorial Scholarship and the Susan Imes Yell Scholarship are available to the staff members of University of Arkansas. Applications are open for the 2015/2016 academic year from May 1. Scholarship amount up to $250.00 per semester will be given, spring and fall semesters only.
The Staff Senate was officially recognized by the University Of Arkansas Board Of Trustees in 1995. The Staff Senate acts as a representative organization for classified and non-classified staff at the Fayetteville campus.
Eligibility:
To be considered for the scholarship, applicants must:
Demonstrate a need for financial assistance in the pursuit of further education
Have a cumulative GPA of 2.5 or higher in prior college or high school coursework to receive the award
Be admitted as a degree seeking student and enroll in at least 3 credit hours of coursework per semester at the University of Arkansas/Fayetteville as determined by ISIS
Maintain a minimum GPA of 2.5 in the fall semester in order to continue the scholarship for the spring semester
Express a desire to contribute to the University through further educational endeavors
Provide at least two references by submitting two letters of recommendation
Be available for an interview at the discretion of the Scholarship Committee
How to Apply:
For applying the scholarship, the applicants can download the application form from the link http://staffsenate.uark.edu/Staff_Scholarship_Application_2015.pdf
The application form along with the following material must be submitted to: Elon Turner, Chair of the Scholarship Committee. All required application materials should be typed or printed in ink, complete in content, and submitted together.
Completed Statement of Educational Purpose and Need Form
Two Recommendation Forms
Current transcript of college coursework
Award Amount:
The Staff Senate Scholarships are available with a maximum of $500.00 amount per year per recipient ($250.00 per semester, spring and fall semesters only).
Application Deadline:
Application materials are due by June 5, 2015.
Link to Apply:
http://staffsenate.uark.edu/45.php