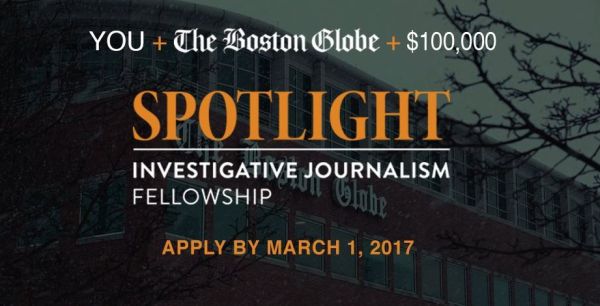 Open Road Films and Participant Media, with support from First Look Media, are sponsoring a fellowship of up to $100,000 to be awarded by The Boston Globe for one or more individuals or teams of journalists to work on in-depth research and reporting projects. The fellow or fellows must be willing to team up with reporters and editors from The Boston Globe Spotlight Team and accept Globe editing for the story or project. The selected journalist(s) will work as a resident or nonresident fellow(s) at The Boston Globe and receive support, be mentoring, and editorial guidance from the Globe editorial team.
The Boston Globe is New England's foremost regional news source dedicated to providing in-depth coverage in breaking news, sports, business, lifestyle, and arts. With a mission to provide truth and accountability, both in print and on BostonGlobe.com, the Globe is the epitome of premium journalism, winning 24 Pulitzer Prizes over the past 50 years.
Eligibility:
Freelance journalists, as well as reporters and editors working at a news organization, may apply.
Investigative project proposals must be focused on a United States domestic issue.
Applicants must be U.S. residents and the age of majority in the state of residence.
To accept the fellowship, the selected fellow(s) must sign an acceptance letter agreement, to be provided by The Boston Globe that confirms the approved project, budget, and timeline.
How to Apply:
For applying the fellowship, the candidates are required to complete the online application form through the given link: https://www.spotlightfellowship.com/application/
If you are applying as a team, please have one individual submit your team's materials but include resumes for each team member.
All documents must be written in English and budgets expressed in U.S. dollars.
All files should be uploaded in PDF format.
Supporting Documents:
Project proposal letter that includes an outline of the story and a proposed timeline for completion
Resume/C.V. for all reporters involved
Estimated budget (including salary)
Up to five writing samples
Financial Aid and Award Money:
The fellowship may be awarded by The Boston Globe in its sole discretion as for either a single $100,000 award to one selected fellow or team or as two $50,000 awards to two selected fellows or teams.
Application Deadline:
Application submissions open on November 29, 2016 at 10:00:00 a.m. PST and closes on March 1, 2017, at 11:59:59 p.m. PST.
Link for More Information:
https://www.spotlightfellowship.com/