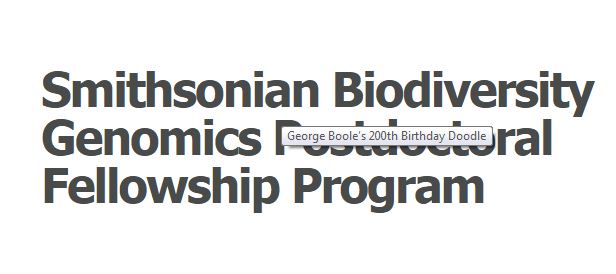 The Smithsonian Institution is pleased to offer Smithsonian Biodiversity Genomics Postdoctoral Fellowship Program. The fellowship provides opportunity for graduate, pre-doctoral or post-doctoral students, scientists and scholars. Only selected fellows will participate in the newly formed Smithsonian Institute for Biodiversity Genomics (SIBG). The fellowship offers $48,000 amount per year.
The Smithsonian Institution was established in 1846.  British scientist James Smithson was the founder of this institute. The institution was mainly found "for the increase and diffusion of knowledge".
Eligibility:
Applicants must propose to conduct research in-residence for a period of 12 to 24 months.
Applicants must have completed or be near completion of the Ph.D. Recipients who have not completed the Ph.D. at the time of application must provide proof of completion of the degree before the fellowship begins.
Applicants interested in conducting research at these facilities are strongly encouraged to contact potential advisors/host at any of the Smithsonian's various Museums and Research Institutes prior to proposal preparation and submission, as well as the Biodiversity Genomics Steering Committee.
How to Apply:
For applying the Fellowship, the candidates must fill the on-line Fellowship application form. The link is: https://solaa.si.edu/solaa/i/app/registrations/generalAccountRegistration2.jspx
Supporting Documents:
Bibliography
Curriculum vitae
Transcripts (unofficial are acceptable)
References
Award Amount:
The stipend for Postdoctoral and Senior Fellows is $48,000 per year (twelve months). Stipends are prorated for periods of less than twelve months.
In addition to the stipend, allowances to assist with the fellow's research related expenses and for temporary relocation to the Smithsonian are possible. A maximum research allowance of $4,000 is available.
Application Deadline:
The deadline of the given fellowship is December 1, 2015.
Link for More Information:
http://www.smithsonianofi.com/smithsonian-biodiversity-genomics-postdoctoral-fellowship-program/