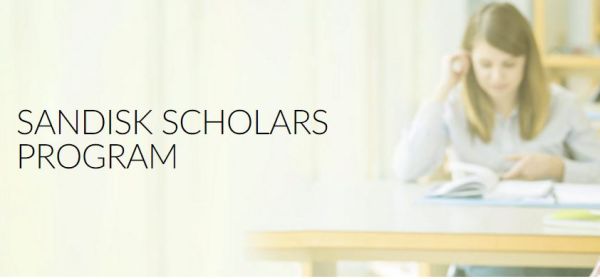 SanDisk is pleased to offer its Scholars Program to graduating high school seniors, community-college students, and students already enrolled in an engineering or computer science related course of study in need of financial support to reach their goals. The SanDisk Scholars Program supports the educational goals of students in pursuit of careers in engineering and computer science. The program awards scholarships of up to $10,000 per student.
For more than 27 years, SanDisk has been transforming digital storage with breakthrough products and ideas that push the boundaries of what's possible. From mobile devices to data centers, SanDisk delivers the peace of mind that data is readily available and reliable, even in the most challenging environments.
Eligibility:
Applications will be accepted from anywhere within the U.S. Applicants must meet all of the following criteria to be eligible for this scholarship:
Must be a high school senior or college freshman or sophomore
Must be planning to enroll or continue as a fulltime undergraduate in the fall
Must be majoring or plan to major in Computer Science and Engineering or related field
Must have a minimum grade point average of 3.0 on a 4.0 scale
Be a U.S. Citizen or legal resident
A single applicant may not win more than one award
Students may reapply each year as long as they continue to meet the eligibility criteria
How to Apply:
Online application, and required accompanying documents are available on the application site independently hosted by ISTS. Register yourself and you can apply on-line for scholarship by using the given link:
https://aim.applyists.net/Account/LogOn?ReturnUrl=%2fSanDisk
Award Amount:
$2,500 annually renewable awards (a maximum of $10,000 per student) will be given to the winning candidates.
Application Deadline:
The application period runs from January 1, 2016 through March 31, 2016.
Link for more Information:
https://www.sandisk.com/about/corp-responsibility/scholars-program