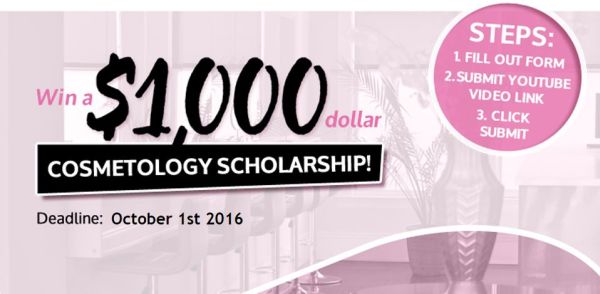 With a prize of $1,000, Salon Supply Store is seeking the candidates who are currently enrolled in a cosmetology field for its scholarship program. They are looking for students who demonstrate creativity, passion and commitment to the study of cosmetology and advancing their art. Whether you are studying to become a hairstylist, barber, nail technician or makeup artist, they want to help you achieve your dream of beautifying the world one client at a time. Salon Supply Store will select at least one of the submitted applications as the potential prize-winning application.
The mission of Salon Supply Store is to provide the utmost quality assistance to their customers. Salon Supply Store provides a large variety of the newest and most popular salon equipment and supplies available – all at unbeatable prices.
Eligibility:
• The Salon Supply Store "$1000 Cosmetology Scholarship" is open only to those legal residents of the fifty (50) United States and the District of Columbia
• Eighteen (18) years of age or older at the time of application and who are currently enrolled (or have been accepted to enroll) in an accredited post-secondary institution of higher learning (e.g. Trade school, college or university)
• Current employees, officers, directors and agents of Salon Supply Store and its related companies and members of their immediate families (defined as spouse, parents, siblings, and children) and persons residing at the same address are not eligible to win.
How to Apply:
• To enter, beginning May 20th, 2016, submit a complete scholarship Application online at Salon Supply Store's Website. The link is: https://www.salonsupplystore.com/pages/beauty-school-scholarship
• Applicants should submit a YouTube video of their best looks, showcasing their skills and offering beauty tips, via the Salon Supply Store website. Video entry should be 30 seconds to 3 minutes long.
Award Amount:
One winner will receive a Scholarship Prize of One Thousand Dollars ($1,000).
Application Deadline:
Your complete application must be submitted by on or before October 1, 2016.
Link for More Information:
https://www.salonsupplystore.com/pages/beauty-school-scholarship