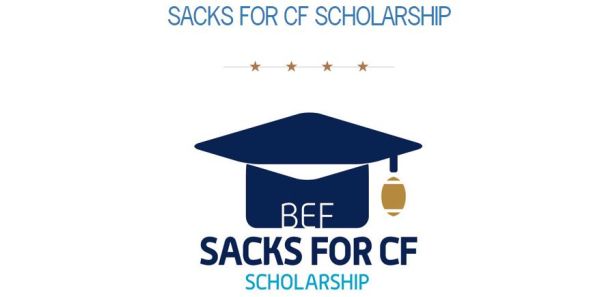 The Boomer Esiason Foundation is offering applications for the Sacks for CF scholarship to college students. The Sacks for CF Scholarship is related to quarterback sacks made during the NFL season. The undergraduate and graduate award is made annually to 30 people who strive for therapy adherence and academic success. "Sacks for CF" means money in the bank for college students who have cystic fibrosis. The foundation awards up to $3,000 to $10,000 award to winning candidate.
The Boomer Esiason Foundation exists to inspire and support those with cystic fibrosis. The foundation believes in the power of positive reinforcement, exercise, and enlightenment.
Eligibility:
Undergraduate and graduate students who are strive for therapy adherence and working toward academic success while living with CF.
How to Apply:
Applying for the scholarship, the candidates are required to login. The link is: https://befscholars.communityforce.com/Login.aspx
Supporting Documents:
Submit essay on the following points:
Discuss the importance of compliance to CF therapies and what you practice daily to stay healthy
Discuss your post-graduation goals.
Recent photo
Letter from physician (on letterhead) confirming CF diagnosis and therapy routine
Transcript (high school, college, and/or graduate school)
Detailed breakdown of tuition costs from academic institution
W2 form for both parents
Financial Aid and Award Money:
Winners will receive up to $3,000 to $10,000 award by the Boomer Esiason Foundation.
Application Deadline:
The deadline for the Sacks for CF scholarship is January 13, 2017.
The names of scholarship winners will be announced on Super Bowl Sunday, February 5, 2017.
Link for More Information:
http://www.esiason.org/cf-living/scholarships/sacks-for-cf-scholarship
Contact Information:
If you have any questions, contact at cmcewan-at-esiason.org