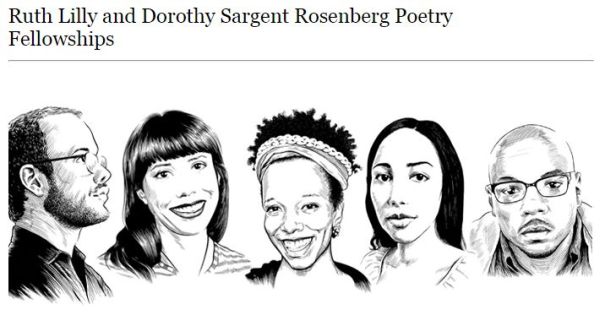 The Poetry Foundation is excited to announce Ruth Lilly and Dorothy Sargent Rosenberg Poetry Fellowship Program for the candidates who are aged between 21 to 31 years. The Poetry Foundation seeks to be a leader in shaping a receptive climate for poetry by developing new audiences, creating new avenues for delivery, and encouraging new kinds of poetry through innovative partnerships, prizes, and programs. The fellowships are intended to encourage the further study and writing of poetry. Five Fellowships in the amount of $25,800 each will be awarded to young poets in the U.S.
The Poetry Foundation, the publisher of Poetry magazine, is an independent literary organization committed to a vigorous presence for poetry in our culture. It exists to discover and celebrate the best poetry and to place it before the largest possible audience.
Eligibility:
Applicants must reside in the U.S. or be U.S. citizens.
Applicants must be at least 21 years of age and no older than 31 years of age as of April 30, 2017.
Application materials sent via e-mail or standard mail will not be considered.
Previously published poems may be included in your application.
How to Apply:
For apply, you must assemble your application materials in a single file including these documents:
An approximately 250-word introduction to your work (not to exceed one page).
Ten pages of poems, in standard font and size (such as Times New Roman, 12pt). You may include multiple poems on one page, but the total pages of poems must not exceed ten.
Publication list. (Optional. If you choose to include it, please do so as the last page of your document.)
Name this document [LAST NAME]_[FIRST NAME].doc (example: Doe_John.doc)
Submitting Details:
All of the fellowship participants must submit application material through the given link:
https://poetry.submittable.com/submit
Financial Aid and Award Money:
Five Ruth Lilly and Dorothy Sargent Rosenberg Poetry Fellowships in the amount of $25,800 each will be awarded.
Application Deadline:
The last date for submitting application form is April 30, 2017.
Link for More Information:
https://www.poetryfoundation.org/foundation/prizes_fellowship
Contact Information: If you have any question, email at hamos-at-poetrymagazine.org.