Radio Television Digital News Association pleased to offer a scholarship program named as "Ed Bradley Scholarship". Scholarships are open to undergraduate students pursuing careers in radio, television, or digital journalism. The Foundation provides training programs, seminars, scholarship support and research in areas of critical concern to electronic news professionals and their audience. The winning candidate will get $10,000 scholarship award.
RTDNF, a 501 (c) 3 educational foundation, was created to help RTDNA members embody and uphold the standards of ethical journalism and promote leadership in the newsroom. RTDNF offers the electronic news community professional development opportunities, an open forum for the discussion of ethics, assistance with the development of leadership skills, support of First Amendment issues and the exchange of ideas and perspectives from electronic journalists worldwide.
Eligibility:
The list eligibility criteria are given below:
Students who will be sophomores, juniors or seniors at the time the scholarship is awarded, pursuing careers in radio, television, or digital journalism
Winners must be officially enrolled, full-time sophomores or above in good standing when scholarships are awarded
Students may apply for only one RTDNF scholarship, and past RTDNF scholarship winners are not eligible.
How to Apply:
Applicants who are interested to be applying for the scholarship program can go through the given link and register themselves
https://app.wizehive.com/appform/login/RTDNF2017
Supporting Documents:
Applicants must also submit the following documents
Cover letter
Discuss your current and past journalism experience
Describe how you intend to use the funds
Discuss your choice to pursue a career in journalism
Addressed to RTDNF Scholarship Committee
Resume
Letter of recommendation
From a professor, advisor, or supervisor
Addressed to RTDNF Scholarship Committee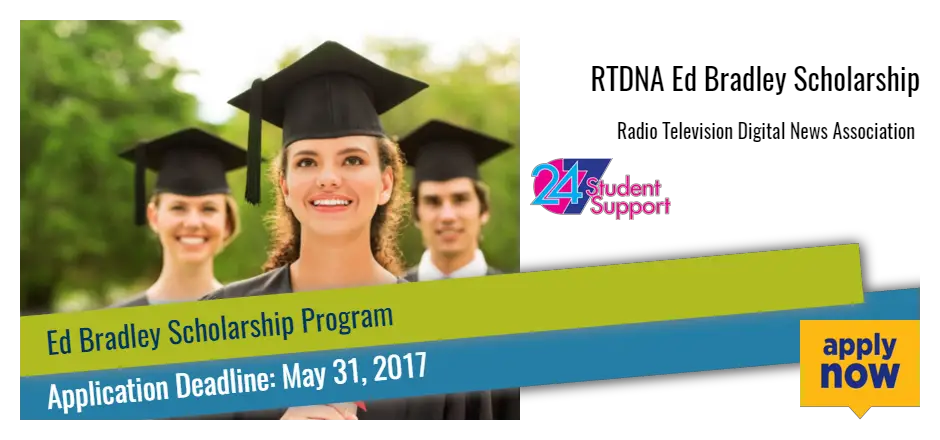 Financial Aid and Award Money:             
The recipient who will win the scholarship will receive $10,000 and an invitation to the Excellence in Journalism conference.
Application Deadline: 
The application deadline for the scholarship is through May 31, 2017.
Link for More Information:
http://rtdna.org/content/ed_bradley_scholarship
Contact Information:
If you have questions about scholarships and fellowships, please contact Karen Hansen: karenh-at-rtdna.org