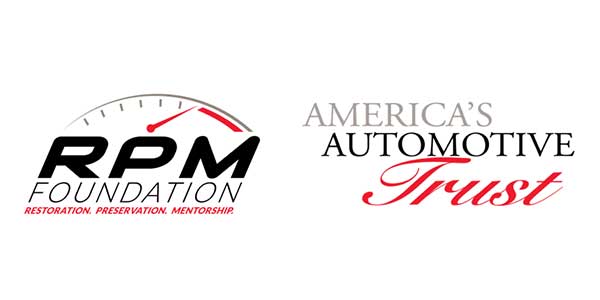 The RPM Foundation is concerned about the future and the fact that fewer young people are learning the trades and skills that will help preserve their heritage. The RPM Foundation is pleased to announce its grant program to help the organizations who are dedicated to instructing and training young people, primarily 18-25-year-olds, to restore and preserve vintage cars and boats, as well as providing them with a pathway to careers. The foundation promotes interest in collectible cars and boats by developing the next generation of enthusiasts, restorers, and craftsmen. Winners of the RPM Foundation Grant will receive an average first-time grant award of $10,000.
The RPM Foundation provides the pathway to careers for the next generation of automotive and marine restoration and preservation craftsmen and artisans through formal training and mentorship. By providing funding through scholarships and grants to organizations that have a proven history of being committed to the 'hands-on' training of young people, they are securing the future of the automotive and marine restoration and preservation industries.
Eligibility:
The RPM Foundation is particularly interested in supporting programs that are focused on high school and college age students.
All educational institutions or non-profit organizations are eligible. The RPM Foundation does not award grants to individuals. Inquire with the educational institutions or organization you are interested in.
How to Apply:
To apply, the applicant can download the application form through the given link: http://rpm.foundation/wp-content/uploads/2016/05/RPM_Grant_App_2017_FINAL.pdf
Supporting Documents:
Each grant request must be accompanied by one copy of the following items:
A brief statement (up to two pages) of your grant request in letter format.
A copy of your organization's 501(c)3 status letter from the IRS
A list of other funding sources for this request – pending and received
A list of your organization's governing board
Supporting documentation – not to exceed 5 pages
Grant awardees are required to submit progress reports including posting photos with captions, as well as videos on a private, secured KoolProjects (http://www.koolprojects.com/) website throughout the term of the grant.
Applicants should also provide information about other funding sources should RPM only award a portion of the applicant amount requested.
Submitting Details:
The complete application email to Administrative Coordinator at info-at-rpm.foundation
Or mail a hard copy to:
RPM Foundation
Attn: Administrative Coordinator
2702 East D Street
Tacoma, WA 98421
Financial Aid and Award Money:
The RPM Foundation is offering an average first-time grant award of $10,000.
Application Deadline:
All grant applications must be received by end of business day (5 pm PST) of the application deadline dates as fellow:
Deadline – August 25, 2017, the award will be announced on October 12, 2017.
Deadline – December 8, 2017, the award will be announced on January 26, 2018.
Link for More Information:
http://rpm.foundation/apply-for-grant/
Contact Information:
If you have any question, contact by email to info-at-rpm.foundation or call 1-855-537-4579.