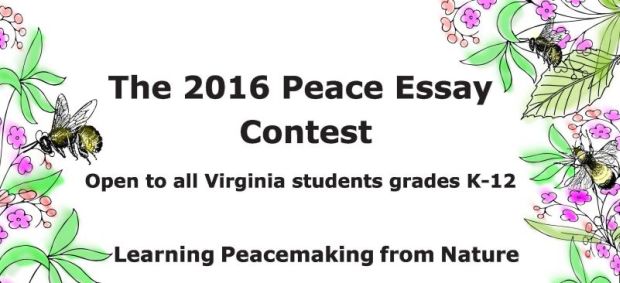 Richmond Peace Education Center is now accepting application for its annual "The Peace Essay Contest" to any elementary, middle, or high school student in Virginia. The theme for this year's contest is "Learning Peacemaking from Nature." The 2016 Peace Essay Contest honors the memory of the late Jim Doherty, whose family foundation has long provided support for this program of the Peace Center.  It offers a top prize of $100 in each of four grade divisions K-2, 3-5, middle, and high school. Seven additional cash prizes are also awarded in each division.
The Richmond Peace Education Center builds just, inclusive and nonviolent communities through education and action.
Eligibility:
The contest is open to all elementary, middle, and high school students in Virginia.
How to Apply:
For applying the scholarship, the candidates must submit 2016 Peace Essay Contest Entry Form. The can be downloaded through the link: http://www.rpec.org/wp-content/uploads/2016/01/Essay-contest-2016.pdf
The candidates must write an essay on the following topic:
The natural world has many examples of plants and animals living together cooperatively. Find and describe one or more instances of this. What lessons about cooperation and peacemaking could humans learn from nature? How might we apply those lessons to peacemaking in our families, our community and our world?
Essay Guidelines:
Entries must be limited to 1000 words or less.
Entries must be typed and double-spaced, or legibly written. Pages must be numbered.
Essays will be judged and prizes awarded separately at each school level–primary (gr. K-2), elementary (gr. 3-5), middle (gr. 6-8), and high school (gr. 9-12).
The final essay must be the original work of the student author.
Primary (K-2) entries may also include an original illustration
Submitting Details:
Submit two copies of each entry. Keep a copy for your records. Each entry must also include a completed entry form.
Deliver or return this entry form by U.S. mail, along with two copies of the essay to:
Essay Contest,
RPEC, 3500 Patterson Ave.
Richmond VA 23221
Award Amount:
First Prize – $100
Second Prize – $50
Third Prize – $25
Five Honorable Mentions – $10
Application Deadline:
Deadline for submission is April 25, 2016. Winning entrants will be notified on or before June 1, 2016.
Link for More Information:
http://www.rpec.org/announcing-the-2016-peace-essay-contest/