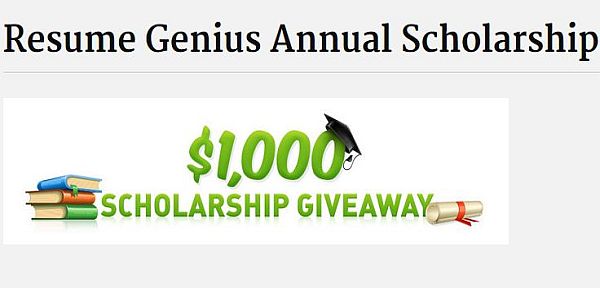 Resume Genius is pleased to announce their annual scholarship program.  The scholarship program is intended to get the student of the US who can think about resumes at an early stage. The program ensures the students that they have practice in this essential area of career progression, before they head into the vocational world. Every December, they offer a $1,000 scholarship to the student who can create the best resume.
Resume Genius (RG) was founded in 2009 with the idea that resume writing could be simplified. RG has become the first stop for job seekers throughout the world.
Eligibility:
Do not require any sort of minimum GPA, and both domestic and international students may apply.
All applicants must be enrolled, or due to be enrolled, in full time university education for the semester they are applying to receive the scholarship fund.
One application can be made per student, per semester.
How to Apply:
For applying the scholarship, you must create a resume based on the life of any fictional or non-fictional character, from TV, history, literature or myth. The resume should not be about you. Again, do not make a resume about your own experiences. Resumes should be no longer than two pages.
Submitting Details:
Resume submissions can be done in word, PDF, or info-graphic format. Resume must be attach to an email and sent to scholarship-at-resumegenius.com. The body of the email should include:
Your name
University attending (if applicable)
A brief introduction about yourself
All applications will receive a confirmation email upon receipt on our end.
Award Amount:
Every December $1,000 scholarship will be given to the winning candidate.
Application Deadline:
Application period starts from January 1, 2015 – December 15, 2015 for Spring 2016 semester scholarship.
Link for More Information:
https://resumegenius.com/resume/scholarship
Contact Information:
Any questions or enquiries regarding school participation, or for more information about School and University outreach programs run by Resume Genius, email at: scholarship-at-resumegenius.com