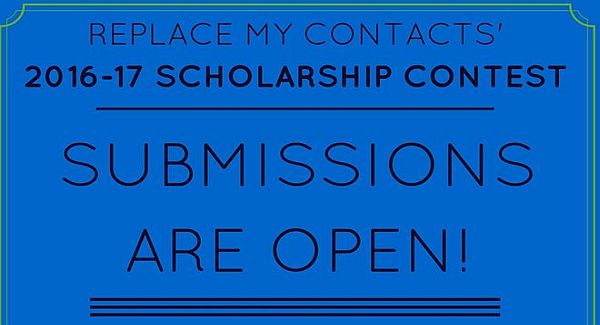 Replace My Contacts is pleased to announce scholarship contest for 2016-17 academic year. The contest is open for currently enrolled full-time college freshman, sophomore, or junior in the United States. The scholarship is paid to the school of the selected recipient(s) in a one-time amount of $1,000.00 U.S. Dollars.
Replace My Contacts is your quick and convenient source for cheap contact lenses. You can buy online and discover top brands like Acuvue, Air Optix, Biofinity and Freshlook at amazing discount prices.
Replace My Contacts Scholarship Program
Eligibility:
All eligible Replace My Contacts participants must be a currently enrolled full-time college freshman, sophomore, or junior in the United States.
The Replace My Contacts academic scholarship is also open to high school seniors in the United States.
Only one entry is permitted per student.
 How to Apply:
Depending on which applies to you, complete one of the two quick surveys below:
I do not wear contact lenses or glasses
I wear contact lenses or glasses
2.   Choose one of the three prompts below to answer in 400 – 600 words. Submitting your essay, remember to include your first name, last name, and the name of the school you are currently attending.
Why is Eye Contact so Important when Interacting with Others?
Imagine You Had the Ability to See for the First Time. Describe Your First Day with Sight.
In What Ways Do Contact Lenses Improve Overall Quality of Life?
Supporting Documents:
Student must provide Replace My Contacts with written proof of enrollment in an accredited college (ex: a scanned copy of your student identification card, a transcript or course list from this academic year, a letter from your college student affairs or admissions office)
Student must provide the address of the college's Financial Aid Office.
Student must provide college student identification number.
Submitting Details:
You can submit your essay to Scholarship-at-ReplaceMyContacts.com and supporting documents to:
Attn: Scholarship Department
Replace My Contacts
4119 Mauch Chunk Rd. Coplay, PA 18037
Award Amount:
Replace My Contacts is offering $1000 Academic Scholarship award to the winning candidate.
Application Deadline:
Your essay must be submitted by April 15, 2016, 12 am EST.
Link for More Information:
http://www.replacemycontacts.com/topics/6276/1000-scholarship-essay-contest.mvc
Contact Information:
You can contact Scholarship-at-ReplaceMyContacts.com with any additional questions.