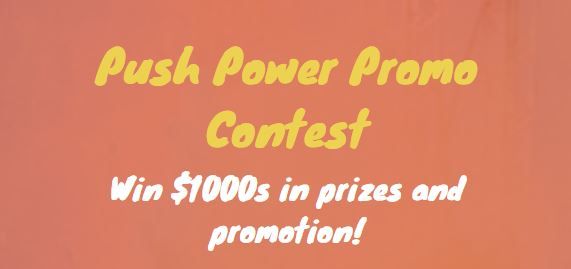 Push Power Promo is pleased to announce the contest that is open to all genres all over the world. With social media and music distribution via the web on the rise, Push Power Promo can help you to stand out above the competition. They promote music from hard-working, talented artists every day. Their music promo is top of the line. A number of prizes are available to the deserving candidates. If you currently have no marketing budget at all, you can still upload your music to their site for free exposure.
Eligibility:
Push Power Promo has a new contest open to all genres all over the world. Submissions are completely free.
How to Apply:
• To be considered for the contest, you must upload a song that consists of following type of URL. Songs that are not original material are not permitted. No covers/remixes. http://soundcloud.com/myprofilename/mysongname
• You can submit your song through the given link: https://anapp.me/D9l/submit
• The jury will select 3 winners among the top 20 entries. Collect votes and get the first ones. Also, two winners will be drawn among the ten most active voters, so it's worth to give your opinion.
Award Amount:
• 1st place (3): $500 bucks via Paypal 3 months of promotion on Contest Page, $200 free coupon code.
• 2nd place (3): $100 bucks via Paypal + $100 free coupon code.
• 3rd place (3): $50 bucks via Paypal + $50 free coupon code.
• All top 3 (9): 2 months of VIP Membership.
• Grand Prize (1): $1000 via Paypal, 1 Year of on-site promotion on their 'About Us' page (including new releases).
Application Deadline:
1. Contest Period: April 25th – June 15th, votes open July 10th, and winner announced July 20th
2. Contest Period: July 25th -September 15th, votes open until October 10th, and winner announced October 20
3. Votes open October 25th – December 15th, winner announced December 31st
Link for More Information:
http://www.pushpowerpromo.com/contests