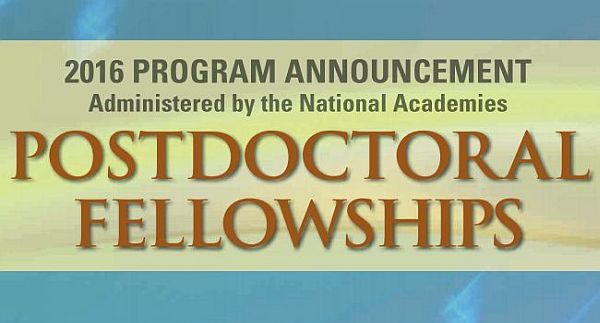 The National Academies of Sciences, Engineering, and Medicine on the behalf of Ford Foundation is pleased to announce Ford Foundation's Post Doctoral Fellowship. The fellowship provides a career opportunity for Postdoctoral students. The fellowships provide one year of support for individuals engaged in postdoctoral study after the achievement of the Ph.D. or Sc.D. degree of $45,000 amount.
The National Academy was founded in 1863. The Ford Foundation seeks to increase the diversity of the nation's college and university faculties by increasing their ethnic and racial diversity, to maximize the educational benefits of diversity.
 Eligibility:
Eligibility to apply for a postdoctoral fellowship:
All citizens, nationals, and permanent residents of the United States, and individuals granted deferred action status under the Deferred Action for Childhood Arrivals Program, regardless of race, national origin, religion, gender, age, disability, or sexual orientation.
Individuals with evidence of superior academic achievement (such as grade point average, class rank, honors or other designations).
Individuals committed to a career in teaching and research at the college or university level.
Individuals awarded a Ph.D. Or Sc.D. Degree no earlier than November 30, 2008 and no later than November 13, 2015 in an eligible research-based field from a U.S. educational institution.
How to Apply:
Firstly Applicants must register and establish a personal user ID and password through the given link: http://national-academies.org/ford
Supporting Documents:
Statement of previous research and scholarly productivity (maximum 3 pages, double-spaced) including a list of publications and presentations.
Annotated bibliography (two to four sentences each for no more than ten key sources).
Abstract of dissertation (maximum 1 page, double-spaced).
Abstract of Proposed Plan of Study or Research (maximum 1 page, double-spaced).
Proposed Plan of Study or Research and long-range career goals (maximum 3 pages, double-spaced, avoid technical jargon.
Award Amount:
One-year stipend of $45,000 amount will be awarded.
The stipend may be supplemented by sabbatical leave pay or other sources of support that do not carry with them teaching or other responsibilities.
Fellowship funds may be disbursed through the employing institution if necessary for the continuation of health insurance or other benefits. No dependency allowance is available.
Expenses will be paid to attend at least one conference of ford fellows.
Access to ford fellow liaisons, a network of former ford fellows who have volunteered to provide mentoring and support to current fellows.
Application Deadline:
Students can apply for this fellowship till November 20, 2015.
Link for More Information:
http://sites.nationalacademies.org/cs/groups/pgasite/documents/webpage/pga_165892.pdf
Contact information:
 For more information please contact on Fellowships Office, K576 National Research Council of the National Academies 500 Fifth Street, NW Washington, DC 20001 orEmail at: infofell-at-nas.edu