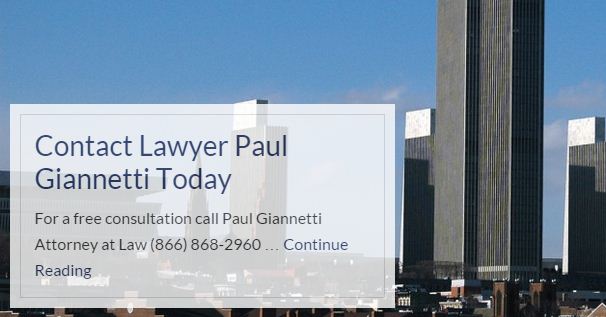 "Paul Giannetti Attorney at Law" is pleased to announce the scholarship for those who are seeking education in a field related to the care of the injured and disabled. The scholarship is available for those who are pursuing a career in massage therapy, physical therapy, chiropractic, audiology and other healing arts. A $3,000 scholarship will be given to the deserving candidate.
Attorney Paul Giannetti is a lifelong resident of the greater Albany area. After working for a small employer-side workers' compensation firm for five years, Paul opened his own legal practice in 1998, exclusively dedicating his legal talents to fighting for the rights of injured and disabled workers in the Albany area.
Eligibility:
Recipient is a U.S. citizen or otherwise authorized to work in the United States
Recipient is accepted, and will be attending a two or four year university or trade school in the fall of 2015
Academic achievement as reflected by an undergraduate or high school cumulative minimum 3.0 GPA
Students in any accredited program of higher education which services the injured or disabled are eligible
How to apply:
For applying the scholarship, the candidates must fill the application form. The form can be downloaded be the link:
http://1t6cjjwt0gu20fjri1edjnnh.wpengine.netdna-cdn.com/wp-content/uploads/2014/10/Scholarship-Application-Form2.pdf
Supporting Material:
Attach one to three (1-3) page typed essay telling why you chose to pursue a career in helping individuals who have been injured or disabled. Please attach your essay as a separate document
An official and complete copy of high school or most recent college transcripts
An acceptance letter from an accredited University or Trade School within the United States
Proof of legal residency in the U.S. (i.e., birth certificate, passport, permanent resident card, etc.)
Submitting Details:
Return completed application and requisite materials either by mail or by e-mail in PDF
The candidates can mail to:
Paul Giannetti Attorney at Law
3 Washington Sq
Albany, NY 12205
The candidates can send the application packet by e-mail in PDF to media-at-comp7777.com
Award Amount:
A check for $3,000 will be made payable to the award recipient's University to cover tuition fees of the student.
Application Deadline:
Applicants must submit the complete application packet by July 17th, 2015.
Link for More Information:
http://www.comp7777.com/scholarship/