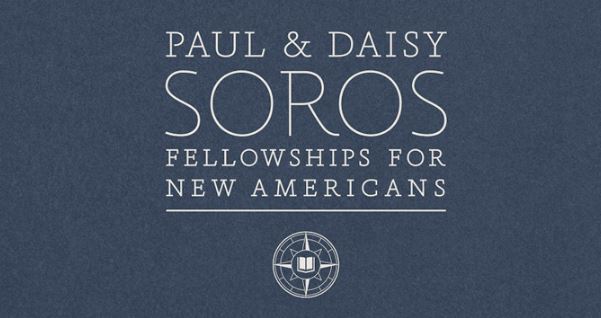 If you are a New Americans there is an amazing opportunity for you to receive "The Paul & Daisy Soros Fellowships" awarded by The Paul and Daisy Soros Alumni Association (PDSFA). in order to be eligible, applicants must be applying to graduate school or in their first two years of graduate school as of the November 1, 2017, deadline. Each Fellowship supports one to two years of graduate study in any field and in any advanced degree-granting program in the United State. 30 fellow will receive up to $90,000 in funding for their graduate education, which can be in any field and at any university in the US.
Paul Soros (Hungarian: Soros Pal June 5, 1926 – June 15, 2013) was a Hungarian-born American mechanical engineer, inventor, businessman, and philanthropist. Soros founded Soros Associates, which designs and develops bulk handling and port facilities. Soros Associates currently operates in ninety-one countries worldwide, as of 2013.Paul Soros was the older brother of George Soros, a successful businessman, and financier.
Eligibility:
An applicant's birth parents must have both been born outside of the US as non-US citizens, and both parents must not have been eligible for US citizenship at the time of their births
Born in the US: You are a US citizen by birth and both of your parents were born abroad as non-US citizens.
Naturalized Citizen: You have been naturalized as a US citizen either on your own or as a minor child under the application of one of your parents.
Green Card: You are in possession of a valid green card.
Adopted: You were born outside of the US or one of its territories and were subsequently adopted by American parents, and were awarded US citizenship as a result of your adoption.
DACA: You have been granted deferred action under the government's Deferred Action for Childhood Arrivals program and your status is currently active.
Applicant should be planning to be enrolled full time in an eligible graduate degree program at a US university for the full 2018-19 academic year.
Applicants who have a previous graduate degree or who are in a joint-degree program
Applicant must not have reached or passed their 31st birthday as of the application deadline
How to Apply:
To be applying interested applicants must go on Embark website by the given link and login to apply for the fellowship: https://pdsoros.embark.com/auth/login
Supporting Documents:
You must provide a letter of recommendation you must accomplish some of the following points in your recommendation letter
Highlight how an applicant meets the Fellowship's criteria, which emphasize creativity, initiative, originality and sustained accomplishment.
Explore the applicant's commitment to the Bill of Rights and Constitution, or more broadly, their sense of citizenship in a community.
Contextualize the challenges, opportunities, and choices that an applicant has faced, whether they are cultural or educational.
Educate the reader about an applicant's field or sub-field, and the level of an applicant's strengths and work within that context.
Describe the extent of the applicant's promise of significant contributions to US society, culture or their respective academic field.
Explain the relevance an applicant's graduate training to his or her long-term career goals, and of potential value in enhancing his or her future accomplishments.
Financial Aid and Award Money:             
Each award is for up to $25,000 in stipend support, as well as 50 percent of required tuition and fees
Up to $20,000 per year, for one to two years.
Application Deadline: 
The application for the 2018-2019 academic year will open April 19 of 2017 and deadline for applying for the scholarship is November 1, 2017, 11:59 PM EST.
Link for More Information: