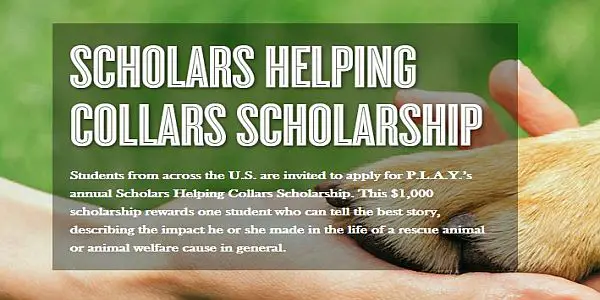 P.L.A.Y. (Pet Lifestyle and You) knows there are plenty of young minds out there that are equally passionate about helping animals in need. In an effort to encourage them and promote this cause, P.L.A.Y. is pleased to announce their fourth annual $1,000 scholarship to a graduating high school senior (2015-2016) who best exemplifies our core beliefs. P.L.A.Y. will select the winner based on the best essay as determined by our internal panel of judges.
P.L.A.Y. (Pet Lifestyle and You) makes quality dog beds with pets, people, and the planet in mind. P.L.A.Y. has always made a point to promote compassion towards animals in both personal and professional lives
Eligibility:
The contest is open to U.S. residents.
No purchase necessary.
All participants must be enrolled as full-time high school juniors or seniors.
Entries are limited to one submission per person.
Immediate family members of P.L.A.Y. employees are excluded from this contest
How to Apply:
To apply, students should submit an essay between 500-1000 words on the topic how that involvement has changed their lives or shaped their perceptions on the importance of animal welfare.
2-3 photos of your volunteer efforts to help animals in need.
Award Amount:
1st Prize – One Scholarship valued at $1,000
2nd Prize – One set of Warm Bellies Special Edition Chill Pads (10 beds) to be donated to an animal shelter of your choice
3rd Prize – One Garden Fresh plush toy set (5 toys) to be donated to the animal shelter of your choice
Submitting Details:
Send a Word doc attachment to SCHOLARSHIP-at-PETPLAY.COM with your essay submission.
The file name should be your full name, state, and date of birth. For example,
Chipper-Jones-GA-4-24-1972.
In the body of your email, include student's full name, date of birth, email address, postal address, high school they are currently enrolled in, and a phone number to contact.
Application Deadline:
All essay submissions must be received by 11:59pm EST on Monday, February 15, 2016.
Link for More Information:
https://www.petplay.com/scholarship/