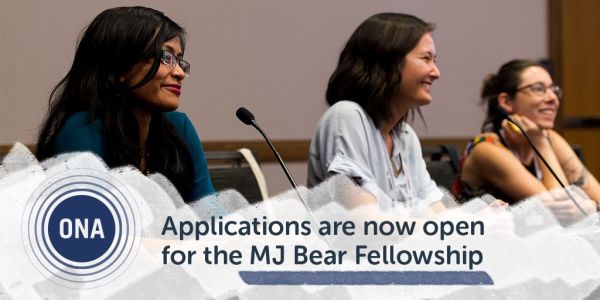 The Online News Association (ONA) is pleased to announce the MJ Bear Fellowships to give you support on your projects and a chance to showcase your work to the digital journalism community. The fellowship is open to part-time students as long as they also are working, either for an organization or are self-employed. Any working digital journalist, who is fluent in English, is eligible to apply.The fellowship is designed for up-and-coming journalists between the ages of 23 and 30 who are just beginning to make their voices heard in the industry and who are working to expand the boundaries of digital news through ongoing creative and innovative projects.If you selected, you will receive three online workshop sessions with a Personal Advisory Board and ONA membership, with three years dues paid in full.
The Online News Association (ONA)a 501 (c)(3) tax-exempt non-profit organization, is the world's largest association of digital journalists. Founding ONA board member Mary Jane "MJ" Bear passed away on December 17, 2010, in Seattle, Wash., after courageously battling leukemia for seven months.ONA's mission is to inspire innovation and excellence among journalists to better serve the public.It also hosts the annual Online News Association conference and administers the Online Journalism Awards.
Eligibility:
Applicants in 2017 must meet the following requirements at the time of application:
Born on 6, 1987, and Oct. 5, 1994
Be a working digital journalist (either for an organization or self-employed)
Be fluent in English
Be involved in a digital journalism project
Full-time students are not eligible
Applicants can be working either for a company or organization or be self-employed.
ONAencourage freelance and independent journalists from diverse backgrounds to apply.
How to Apply:
To apply for the MJ Bear Fellowship, the applicant must submit required material with online application on the given link: https://journalists.org/programs/mj-bear-fellowship/apply/
Supporting Documents:
The application has five parts. Applications and all submitted materials must be in English. Any links you provide as part of the application must be public — with no password required.
To apply, you'll need to have the following ready:
Your resume/ CV
A photo of yourself
Project, Experiment, Concept: A link to the project that you'd like us to consider that is ongoing or started after Jan. 1, 2016
Testimonial / Letter of Recommendation: A recommendation letter from an employer, instructor or technology partner who is not a personal friend or family member
Personal Statement or Presentation: Tell them about yourself in a personal statement or a multimedia presentation. Length: 300 words or fewer, or a multimedia presentation no longer than one minute. Video presentations are strongly encouraged.
Financial Aid and Award Money:
The fellowships are awarded to those who will be 23-30 at the time of the conference in order to focus on young digital journalists who have been working but are still establishing themselves.
If you selected for a fellowship, you will get:
Registration, travel, and accommodations for the Online News Association Conference & Awards Banquet
Recognition at the ONA conference, usually through panel participation
Three online workshop sessions with a Personal Advisory Board
ONA membership, with three years dues paid in full
Application Deadline:
The deadline for 2017 the MJ Bear Fellowships is July 20, 2017, at 11:59 p.m. ET.
Three fellows will be selected, two from the United States/Canada and one international. Fellows will be announced in August.
Link for More Information:
https://journalists.org/programs/mj-bear-fellowship/
Contact Information:
If you have any questions, Contact by email to Anne Saul at mjbearfellowship-at-journalists.org