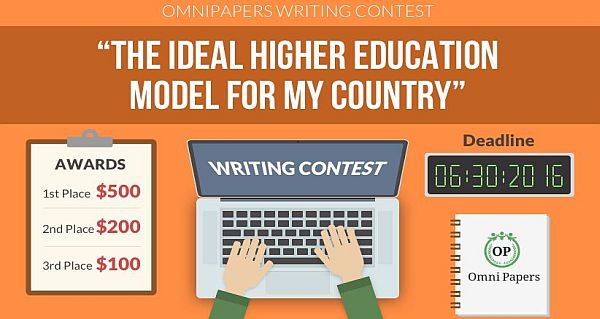 OmniPapers announces "The Ideal Higher Education Model for My Country" writing contest for International students. Age of a participant varies from 20-25 years. The given contest aim's to provide genuine and reliable information about the top essay writing services. OmniPapers  will award three students as first winner will receive an amount of $500 and remaining two will receive $200, $100 amount respectively.
The OmniPaper.com is hosted and maintained by college students. This amazing website helps students overcome their problem by providing genuine and reliable information about the top essay writing services. – See more at:
Eligibility:
Students are recommended to read the eligibility criteria mentioned below:
Open to college students all over the world.
Participant must be 20-25 years old.
How to Apply:
In order to apply write an essay on the topic "The ideal higher education model for my country."
Try your best to cover the following questions:
What higher education model do you see ideal?
What changes would you make to improve your country's higher education model?
Essay Guidelines:
The language of your essay should be english
You can write it in academic or non-academic style
The number of words should be between 1,000-1,500
Save and send your essay in word doc or PDF
Submitting Details:
Send your essays to info-at-omnipapers.com. Also, don't forget the subject line of your message should be "OmniPapers Writing Contest". And write your name in the body of this message.
Award Amount:
Three awards will be granted by OmniPaper.com
$500 – the 1-st place
$200 – the 2-nd place
$100 – the 3-rd place
Application Deadline:
You are welcome to send your essays anytime between March 22 and June 30, 2016.
Link for more information:
http://omnipapers.com/essay-contest/
Contact Information:
More details needed? Ask your questions at info-at-omnipapers.com