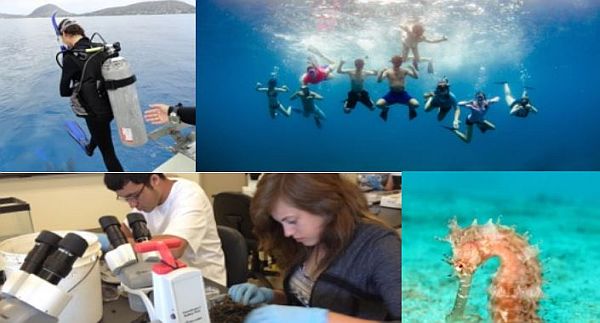 Be Green, and blue, because the ocean matters and you do, too! The Ocean Matters Scholarship Program is available for high school-aged students (ages 15 and older) to attend the Marine Science through Service project in Oahu, Hawaii this summer, July 21-31, 2017. The program will be hosted at the Hawaii Institute of Marine Biology (HIMB) of the University of Hawaii on Coconut Island off of Oahu. HIMB is the largest marine research facility in the U.S., where students will have front row seats to the latest technologies and research in marine biology.
Ocean Matters is GPS positioned and size classed understudied seahorse populations in Oahu, Hawaii for the Hawaii Institute of Marine Biology. We've eradicated invasive lion fish and collected data on coral bleaching, as well as done underwater trash cleanups in Utila, Honduras
Eligibility:
The students must be
High-school aged grades 9-12
Minimally 15 years of age when the program begins and
Need a moderate level of feelings, effective problem solving, develop leadership skills, receive scuba certification, receive 6-10 hours of community service credit
How to Apply:
Complete the application form through the given link: http://www.oceanmatters.org/?page_id=110
To enter, supply a video that is no longer than 3- minutes and features why you would be a great candidate for this scholarship and why you feel the ocean matters along with a recommendation letter from a teacher addressing both your merit and financial need.
Upload your video to a free google photos account. Once uploaded, click "share" and enter admissions-at-oceanmatters.org.
Supporting Documents:
A letter of recommendation preferably from a science teacher or another high school teacher. Email to admissions-at-oceanmatters.org
An up-to-date transcript from all high school work completed to date (must include 1stsemester). Email to [email protected]
A $50 application fee. You may pay the fee on our secure server online or write a check payable to Ocean Matters, 129 Rockmeadow Road, Uxbridge, MA 01569. This fee is for a service and is not tax-deductible.
Submitting Details:
Upload your video to a free google photos account. Once uploaded, click "share" and enter admissions-at-oceanmatters.org
Financial Aid and Award Money:
Students who attend this summer will:
Have classroom and lab instruction in marine science provided by HIMB professional staff
Have hands-on opportunity to apply lessons learned in the classroom to the marine environment
Receive scuba instruction and Open Water certification
Assist researchers in the field on a project related to ocean conservation
Snorkel with Pacific white-sided dolphins in open ocean
Dive daily on the coral reef with professional dive staff supervising
Receive community service hours
Application Deadline:
Deadline for scholarship application is March 1, 2017.
Link for More Information:
http://www.oceanmatters.org/?p=2322
Contact Information:
Feel free to call Ocean Matters Director Laura Parker Roerden at 617-304-4402.