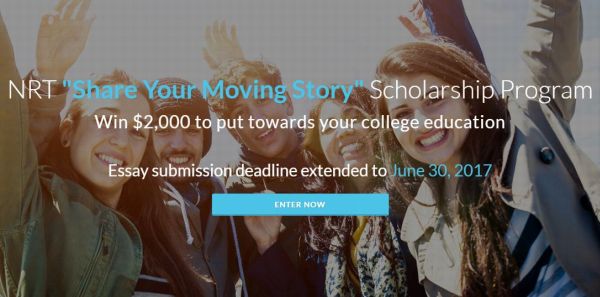 Share your story today for the chance to win a scholarship to the college of your choice.To support high school students and their families who have experienced a move, NRT Relocation & Referral Services is proud to announce the "Share Your Moving Story" Scholarship Program. The contest is open to high school students expected to graduate in or before the spring semester of 2018. Up to ten scholarships of $2,000 each will be awarded to put towards college education (total $20,000).
NRT, a subsidiary of Realogy Corporation, is the nation's largest residential real estate brokerage company. NRT is comprised of a portfolio of leading brokerage and related real estate services companies, each committed to providing their customers with the unmatched resources and exceptional customer service they deserve.
Eligibility:
High school juniors and seniors, tell them YOUR "moving" story!
Open to high school students expected to graduate in or before the spring semester of 2018 are eligible to participate.
Employees of Realogy, NRT or any of their subsidiaries or affiliated companies (this does not include independently owned and operated Realogyfranchises) as well as the immediate family and household members of each such employee are not eligible to enter.
How to Apply:
To apply for the scholarship contest, the applicant must submit online entry through the given link: http://www.shareyourmovingstory.com/#
Supporting Documents:
Applicants must submit an original essay of 1,000 words or less exploring how the moving process has personally affected him/her.
Essay clearly addresses the topic of moving
Essay draws upon author's personal experiences
Essay conveys a powerful story
Essay effectively communicates how the moving process has affected the author's life
Essay is articulate and free of spelling/grammatical errors
Financial Aid and Award Money:
Total $20000 award will be awarded through the program.
10 winners will receive a $2,000 scholarship.
Winners will receive a W-9 and other legal waivers to complete when they are notified of the scholarship.
The scholarships will be paid directly to the winning applicants and each will receive a 1099 tax statement.
Scholarships are to be used for educational purposes. These include tuition and/or textbooks.
Application Deadline:
The essay submission deadline is June 30, 2017.Winners will be contacted on or before August 1, 2017.
Link for More Information:
http://www.shareyourmovingstory.com/