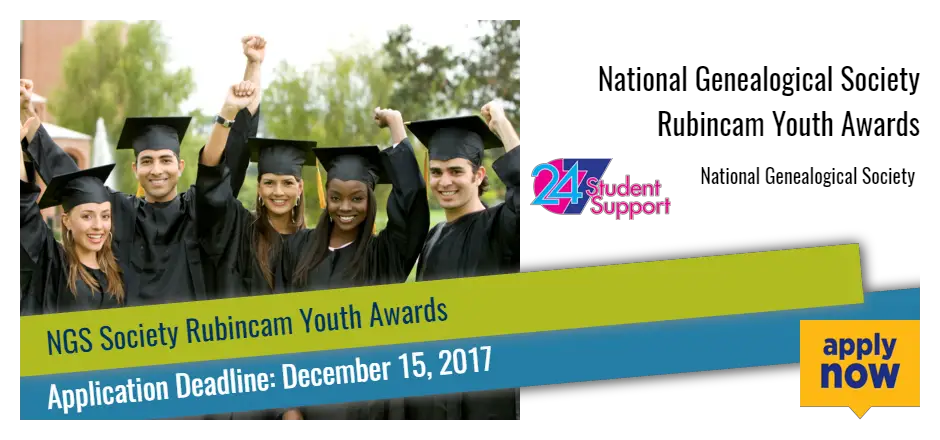 The National Genealogical Society (NGS) is pleased to announce the Rubincam Youth Award. The Award is available to students in grades 10 to 12 or between the ages of 16 and 18. To be considered, you must submit a single – line genealogy in a biographical format for five generations.The award encourages and recognizes their youth as the next generation of family historians.The mission of the NGS is to serve and grow the genealogical community by providing education and training, fostering increased quality and standards, and promoting access to and preservation of genealogical records". The program is offering an award in two categories- Senior and the junior winner will receive a $500 and $250 cash prize.
The National Genealogical Society was organized in Washington, D.C. in 1903. The preliminary first meeting was held on 24 April and the formal organization effected 11 November. In 1953 in anticipation of the fiftieth anniversary, a committee was formed to compile a history.
Eligibility:
Young people worldwide are eligible to apply.
Senior- High school students in grades 10–12 or between the ages of 16–18
Junior- Middle school students in grades 7–9 or between the ages of 13–15 years
NGS membership is not required.
Students must apply for the appropriate age/grade award.
How to Apply:
To apply for the Rubincam Youth Award, the following downloadable PDF files detail submission requirements for both the senior and the junior categories (submissions must be in English and be original unpublished work that becomes the property of NGS and will not be returned). The links are:
Submitting Details:
The complete submission must submit to the given address:
NGS Rubincam Award
National Genealogical Society
3108 Columbia Pike, Suite 300
Arlington, Virginia 22204-4370 USA
Financial Aid and Award Money:
The awards may be given annually to a student in either one or two age categories for an appropriately prepared genealogy.
The senior the award winner receives a $500 cash prize, a plaque, and a one-year NGS membership (non-print).
Junior- The award winner receives a $250 cash prize, a plaque, and a one-year NGS membership (nonprint).
Application Deadline:
The application submissions annual deadline is December 15. E-mail contact information is required for all submissions.
Link for More Information:
http://www.ngsgenealogy.org/cs/rubincam_youth_award/nomination_form
Contact Information:
If you have any question, contact the NGS Awards Chair at awards-at-ngsgenealogy.org.