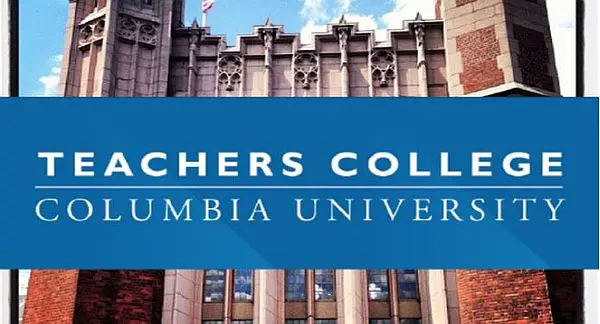 Teachers College, Columbia University is offering Minority Postdoctoral Fellowship Program to those who have earned the doctorate in any area related to education. The fellowship program seeks to promote the recruitment and retention of a diverse faculty at Teachers College. It provides recent doctorate recipients opportunity to develop a program of research and participate as an active community member in the life of a graduate research university.The fellowship provides a stipend of $35,000 for research, $3,300 for teaching a course and many more benefits.
Teachers College, Columbia University is the graduate school of education at Columbia University, located in New York City.   The program helps in advancing the careers of individuals from groups in U.S. society.
Eligibility:
Applicant must be a citizen or permanent resident of the United States.  In making awards under this program, Teachers College gives consideration especially to individuals who are either members of a federally recognized U.S. racial/ethnic minority group or have a federally recognized disability.
The selection program committee also takes into account a range of other factors related to increasing diversity at the College, such as socioeconomic background, research and teaching goals that emphasize diversity, and first-generation college graduates.
Applicant must hold an earned doctorate in any area related to education, have a commitment to research and teaching in a field related to education, and have completed a doctorate in the last 3 years (no earlier than January 1, 2014)
Teachers College doctoral graduates are not eligible to apply.
Candidates from historically underrepresented groups in higher education are strongly encouraged to apply.
How to Apply:
For applying the fellowship, the candidates must submit following documents:
An information sheet with name, mailing address, telephone and fax numbers, e-mail address, the title of the research project, and the names of recommenders.
A cover letter describing applicant's interest in doing postdoctoral work and relevant personal and professional background and interests.
Curriculum vitae.
A research proposal related to education, broadly defined, describing the research that the applicant would like to pursue during the fellowship (five-page limit, double-spaced).
Two letters of recommendation.
Any accommodations required.
Submitting Details:
All application materials (including letters of recommendation) must be sent to Mitzi Pelle, Office of the Provost and Dean of the College at mp541-at-tc.columbia.edu
Financial Aid and Award Amount:
The fellowship includes a $35,000 research stipend, $3,300 for teaching a course, research support of $5,000, free campus housing in a studio apartment (if desired), eligibility for low-cost student health insurance, and limited relocation costs.
Application Deadline:
Deadline for the given application is February 10, 2017.
Link for More Information:
http://www.tc.columbia.edu/provost/opportunities/minority-postdoctoral-fellowship/
Contact Information:
For any questions regarding the application process should be addressed to Dr. Kristine Roome, Associate Provost, preferably by e-mail at kar2005-at-tc.columbia.edu or by phone at 212-678-3050.