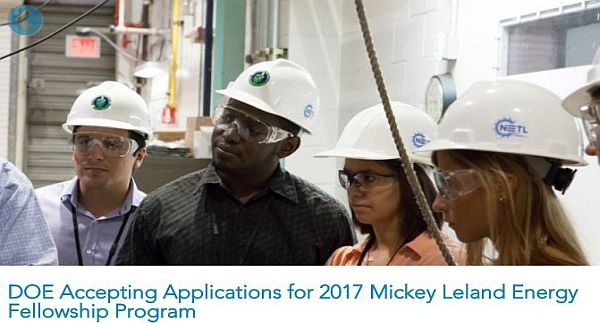 The Department of Energy's (DOE) Office of Fossil Energy (FE) is now accepting applications for the 2017 Mickey Leland Energy Fellowship (MLEF) program. This is a 10 weeks summer program for graduate students, postmasters, undergraduates, and post-associates. The mission of the MLEF program is to strengthen a diverse pipeline of future STEM professionals. The MLEF program provides stipends to candidates. Undergraduate students, Master's students, and Ph.D. students or graduates will receive $600, $750 and $850 award amount respectively.
The U.S. Department of Energy's Office of Fossil Energy plays a key role in helping the United States meet its continually growing need for secure, reasonably priced and environmentally sound fossil energy supplies.
Eligibility:
The MLEF is open to all students who meet the following application requirements:
Be at least 18 years of age at time of application
Be a U.S. Citizen
Have a cumulative GPA of at least 3.0
Be currently enrolled full-time in a STEM degree program at an accredited college or university (sophomore year or higher) on or after January 1, 2016
Available to participate in the full 10-week program
How to Apply:
Candidates apply only online for the scholarship. You can login through the given link: https://www.zintellect.com/Account/Logon
Supporting Documents:
You will need to upload your unofficial transcripts, upload a resume, and provide the contact for two individuals who can provide you with a reference.
Financial Aid and Award Money:
The MLEF program provides stipends to Fellows based on the following scale:
Undergraduate students receive a weekly stipend of $600
Master's students receive a weekly stipend of $750
Ph.D. students or graduates receive a weekly stipend of $850
Some participates may be eligible to receive a housing and travel allowance
Application Deadline:
Scholarship application deadline is December 30, 2016.
Link for More Information:
http://energy.gov/fe/articles/doe-accepting-applications-2017-mickey-leland-energy-fellowship-program
Contact Information:
If you have any question, email at barbara.dunkin-at-orau.org